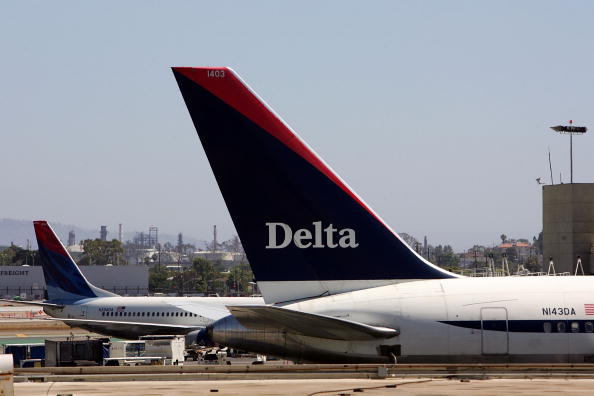 The Gold Delta SkyMiles Credit Card from American Express is currently offering new cardholders the chance to earn 30,000 bonus miles to use on free flights, upgrades and other purchases. All new card members are going to earn 30,000 bonus miles for doing nothing more than simply applying for the card and making $1,000 worth of purchases in the first 90 days they have an account. That's not at all difficult, even if you like to think that it is.
In addition to this amazing offer, the Gold Delta SkyMiles credit card from American Express is also offering all new cardholders a $50 statement credit as soon as you make your first purchase with the card. So here's the deal; you get 30,000 free miles and $50 off your statement if you spend money. That's really a total of only $950, too, since you get that statement credit. This is an offer that's good for both the personal credit card and the business Gold Delta SkyMiles credit card from American Express.
Essentially, you're going to get some serious use out of this card. It's a great card for personal use and business use, especially for those who prefer to fly one of the largest airlines in the world; Delta. Since Delta serves most of the country and many international locations, it seems as if there is little reason not to apply for this card to enjoy the many benefits that are associated with being a cardholder.
Gold Delta SkyMiles Credit Card from American Express Benefits
30,000 bonus miles if you spend $1,000 in three months
$50 statement credit with first purchase
No annual fee for one year
$95 annual fee afterward
Earn 2 miles for every dollar spent with Delta
Earn 1 mile for every other purchase made
Priority boarding for all cardholders
If you are in the market for a new airline credit card, ask yourself if the Gold Delta SkyMiles credit card from American Express is the card for you. Do you fly Delta at least five times per year? Are you a frequent flyer in general? Can you stand to pay just a little bit more to fly Delta than other airlines when the price is a little higher? Do you live near a Delta hub? Do you know whether or not Delta services the places you fly the most?
If you can favorably answer most of these questions, the Gold Delta SkyMiles credit card from American Express is probably the right card for you.
When it comes to earning the sign-up bonus, think of it this way; you have three months to spend $1,000. Even if you are on a tight budget and cannot afford to spend an additional $1,000 in the next three months, you can use this card to pay your regular monthly expenses so that you can pay them off using the cash you would have used otherwise to pay them, earn your points and begin flying free of charge. Or, you can break it down into three months worth of purchases you can pay off easily at the end of each month; it' sonly $333 and change to spend each month. You can easily do that between gas and groceries – plus far more. Consider this so that you can take advantage of all the free miles Delta and American Express are offering new cardholders.
Photo by Getty Images