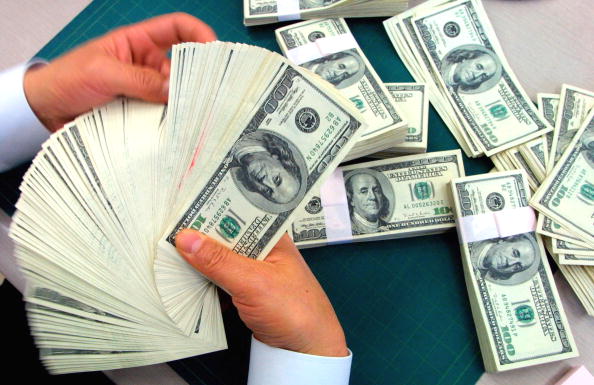 The winning powerball numbers were announced, and it wasn't us (I didn't play, so I admit I had no chance to begin with). So we are not all $1.5 billion richer, and that's too bad. I had a few nice ideas in mind to use $1.5 billion for – because I was miraculously going to win without a ticket? You don't need billions to make good investments and spend your money wisely; you can take $10,000 and use it in a way that will make your life a lot easier.
It's not a lot of money, and your options might seem a bit limited with only $10,000 to spend, but we have a few ways that you can use that money to buy things or invest in something that might show you a bit more money later on down the road. Since we like an investment, and we like earning money for nothing, we think this sounds like a great idea. So, why not take the time to go ahead and invest your $10k in something amazing, which we can happily help you with if you keep on reading.
Donate
You don't have to give your $10,000 away right now. You can actually open up an account in which you place money here and there and it's donated to your choice charities when you pass. Fidelity is one bank that allows you to set up your own miniature foundation for only $5,000, which is really not all that much. You can add to the account anytime you want, and you can rest assured that your funds will be put to good use one day.
Another great benefit of this one is that you can write off your donations, even if you don't actually donate the money right away. It is a great way to make your life a little bit less expensive and a lot more enjoyable. We all feel good when we give back, and that's what makes us happy at the end of the day.
Upgrade Your Kitchen
If your kitchen isn't your dream, go ahead and update it. It might not sound like a great way to spend your money, but most buyers are in the market for an amazing kitchen. They want it as high-end as possible, and you'll almost always see a much bigger return on your investment when you go this route. Allow us to suggest that you get rid of cheap countertops and add a nice stone such as Quartz, Marble or Granite. We recently ripped ours out and had granite installed, and we love that it's virtually indestructible.
We also love the look, and it cost us less than $10k to redo our kitchen and both of our downstairs bathrooms. We needed 144-square feet of granite to do all three rooms, and we chose a more expensive grade C granite called Alaska White. With installation, backsplash and the removal of our old countertops, we paid $9,300. According to our realtor friend, we increased the value of our home more than $25,000 with that small investment.
Now is the time to upgrade your kitchen. We added a big, single-basin farmhouse sink, as well as a high-end decorate faucet. We already have stainless steel appliances and nice cabinets and floors, so that was what was missing. Now we have a gourmet kitchen. You can change out the counters, reface your cabinets, add new pulls, a new sink, upgrade your appliances (let me tell you, too, that my double wall oven was a huge selling point for me, and I will never live in a home without one ever again). These are all things that will add serious value to not only your home but your life, as well.
Upgrade Your Bathrooms
Bathrooms are the other big selling point in any home. People want nice bathrooms. We upgraded our floors in our guest bathrooms and our kids' bathrooms to the tile that looks like wood floor planks, and it was not much at all. The look, though, is amazing. It looks so upscale. In addition to the granite counters, we added, we also framed out mirrors, upgraded our fixtures and our lights and painted. It's really easy to makeover a bathroom for under $10k, even if you replace your vanity. It adds a lot of value to a home, too, so it's always a good investment to add to a home.
If you have $10,000 lying around, we believe you could upgrade many things in your home, including your bathrooms, to make them far more upscale and desirable to those who might eventually look at your home when it's time to sell.
Buy a House
Okay, so $10,000 is not going to get you a house. However, it could be a part of your down payment. It's a lot of money to put down, even if it's not the full amount you should put down on a new home. It's a starting point, which means you'll already have a bit of equity and you'll be that much closer to enjoying a beautiful new home of your own. Wouldn't you like to have a home of your own to call yours, one you can fix up, make memories in and eventually sell for far more than you paid for it?
It's the American dream, and that's all I'm saying about that. Historically, buying a home is a great investment, so it makes sense to put your money where your mouth is and invest in something useful and amazing.
Buy a Birkin
Yes, ladies, you did read that correctly. Harper's Bazaar released information last week that states financial experts are more reliable investments than the stock market or gold. You see, Birkin is an Hermes product, and we all know that Hermes is one of the most exclusive designers in the world. According to the information that Harper's Bazaar released, the bags have increased in value every single year since it was made famous. Since 2001, the bangs have increased in value as much as 25%. What this means is that spending the $10,000 on the entry level bag could eventually see a return in your investment of more than $250,000.
In 2015, a basic Birkin sold at an auction house for $223,000. I know what you're thinking; how? It's quite simple. Hermes has a marketing campaign that makes so much sense it's phenomenal. Not only are their products far superior to other products across the world, they are also very exclusive in that they're not always available. There are only so many Birkin bags in the world, produced every year. To get one, you have to buy it from someone getting rid of one of their own, or you have to get on a waiting list. That list is sometimes years long – sometimes longer.
If you had a $10,000 bag and someone wanted one so badly they offered you $50,000 for it since the alternative was to wait 3 years to get their hands on one on their own place on the Birkin list, would you not sell it? The world says that Birkin is a good investment. If you can get one, get one. It might just be your retirement one day.
The trick, however, is to ensure you are taking care of it. Keep it in a dust bag, keep it off the floor, keep anything liquid away from it and keep pens out of it. The newer it looks, the more you will get for it when the time comes to sell the bag to some desperate socialite looking to climb her way up the social ladder. Trust me when I say that this is a magnificent investment.
Put that Money Away
There are so many ways to put your money away when you actually have some to put away. For instance, you can put it in a CD with a high interest rate and not touch it. You can continue to let that interest rate build by leaving the money in there and allowing it to earn more for longer periods of time. You can invest in stocks. You can put your money into a savings account with a high-yield probability. While it might seem as if there are not that many bank accounts offering you the chance to earn high interest rates, there are plenty of banks online that are offering just that.
Synchrony Bank offers 1.05% APR right now on savings accounts with at least $30
Barclays Dream Account pays 1.05% APR on savings with the potential to earn another 2.5% APR if you are able to deposit money regularly for six months and another 2.5% APR if you do not take money out of that account
There are other banks that offer higher than average rates, too, and you can find them in your area by checking rates. These are just a few examples of the money you could earn if you were to put your $10,000 into an account here. Let's say you open the Barclay's Dream Account and place $10,000 into the account and another $1,000 per month for a full year. You'll earn a lot of interest from that, and the fact that you're continuing to deposit means you will only add more interest and more money to the account; and then you get to add additional interest to your interest. That sounds like more than a reasonable way to invest your money.
Doing a little research around banks and credit unions in your own city or town as well as online and on a national scope might net you a much bigger interest rate than you might find otherwise. Just because you don't think that it exists right now does not mean that it does not exist. You have the power to find the rates you want anytime you want them.
Go On an Amazing Trip
Is this an amazing way to spend your money? Frankly; yes. No, it's not considered a technical investment and it's probably not how most financial advisors will tell you to spend your $10,000. However, I'm telling you that it might not be the worst way to spend it. Prior to telling you why I don't think this is an awful way to spend your money, allow me to tell you that you should ensure you have no debts, you don't owe any money on anything and you are in a good financial situation.
If you can afford to pay your bills, you have an emergency fund, savings, retirement and you have no debt, why not go ahead and do something that you might not otherwise do, such as take an amazing vacation? My husband and I love to travel, and that means we do it often. There is nothing quite like the memories we make when we travel; the experiences we get from leaving home and going places we've never been. In fact, we wouldn't have kids if it hadn't been for a trip to Hawaii. Okay, so we'd probably have kids, but we wouldn't have the kids we do have, because it took that trip to convince me to have them. We'd been married three years. We were celebrating my 24th birthday with a week at the Turtle Bay Resort on the North Shore of Oahu. We spent mornings sipping coffee and mimosa on our balcony overlooking the ocean, and we'd meander down at some point for brunch. Every morning, we'd see a family with the most adorable little girl.
We'd watch them laugh and have a good time, and we struck up a conversation with them a few times. Super nice people; and my husband finally turned to me after a bottle of champagne and a helicopter tour of the island on our last day there and said that he has never been happier in his life, and the only thing that would make him happier would be if I said I wanted to have a baby with him. So, we had a baby. If we hadn't gone, we wouldn't have noticed that family looking like exactly what we wanted in our own future, and we probably would not have any of our kids. Our lives would be completely different.
Travel is worth every penny; the new places, the new food, the new sights, the new people. There is nothing like taking your dream vacation and enjoying every second of it whenever you get the chance. I say that if you can afford to spend that money on something that isn't related to your financial situation, do it; go where you've always wanted to go. It's a trip you will remember for the rest of your life – I promise. What better way to invest your money than with memories that last a lifetime?
Landscape Your Lawn
By now we know that our home is our biggest investment. Why not make sure it looks like it's worth every penny with a little landscaping. I cannot tell you how much of a difference it makes to have a home with a beautiful lawn than to have one with a so-so lawn. Have sod installed. Plant flowers; invest in beautiful furniture and plants. Get it looking good. You might not have any plans to sell now, but your home is important from the outside, too. Here's the deal; when someone drives up and sees your home for the first time, what do you want them to see? Do you want them to see a home that's been neglected or ignored? Do you want them to think that you're not really someone who cares? Or do you want them to see an amazing lawn and immediately come to the conclusion that you must be a pretty amazing person to have a lawn like that?
Investing in your home is always a good idea; as long as you don't overdo it for the area. Check with a real estate professional or just look around at your neighbors and see what works in your area. That will give you a good idea of what will work and what will not work when it's time to handle your landscaping.
Buy a Used Car
Car payments are so early 20s. With so many other amazing things that deserve your time and attention, as well as the good sense to be as financially free as possible, why bother with a car payment? Instead of that brand new car you want, buy the one that has a few miles on it and is a model year old. You'll spend far less. If you do that, you'll have a good, reliable car that will last you a long time. You'll also have a huge down payment to make those monthly payments a lot more affordable. You'll also have something we like to call financial freedom if you buy a used car under $10,000. It's a nice way to ensure you are debt-free and able to spend your money on what matters most.
Ramp Up Your Emergency Fund
The general rule of thumb is that you should have at least $1,000 in an emergency fund. The next step after that is to ensure your emergency fund has three month's living expenses in it. Then you turn that into six months. In that case, why not make it a year? Why not put one year of living expenses into an emergency fund so that you never really have to worry too much. Now, I'm not saying that I think you can afford your entire year in one $10,000 deposit, but it's a nice start. Your emergency fund might need to be used for any number of things, so why not make sure that you have money in there when an emergency comes up?
Photo by Getty Images