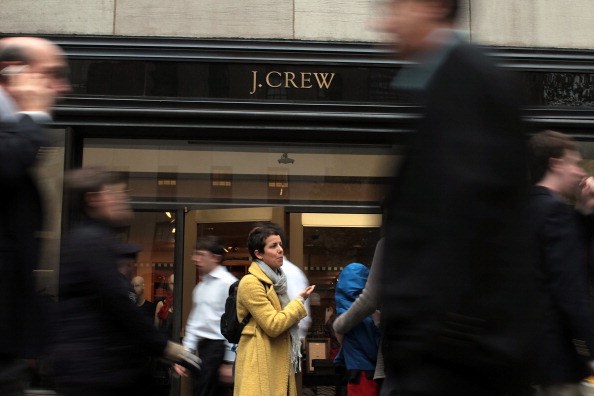 J. Crew is a favorite for many shoppers with its preppy line of men and women's clothing and its always fashionable styles. What makes this particular company even more exciting is the fact that they've recently begun working with a new designer, someone with fresh and innovative ideas that marry perfectly with the J. Crew brand. Her name is Sydney Keiser, and she goes by the name Mayhem.
And she is only 4-years-old. Her mother noticed at the age of three that Mayhem had an eye for fashion and design, and she began featuring the child's work out of paper dolls on her blog. It did not take long for Jenna Lyons, the executive creative director for the company to notice the child's designs and fall completely in love. She offered to work with the girl, and it was just announced that J. Crew will partner with the little girl to create a line of stylish children's clothing for summer 2015. The line is currently being remodeled off its paper dolls and turned into real-life clothing for real-life children.
Come on; who doesn't want to shop J. Crew now? What an exceptional company it takes to recognize the talents and designs of a child, whose eye for fashion is brilliant. If you've been hesitant about applying for the J. Crew credit card up to this point, let this be a good reason to support this store. And let us tell you how the card can help you save money.
Immediate Discounts
You will receive your first discount with the J. Crew credit card immediately. You'll get a sensational 15% discount no matter how much you spend in the store or online – depending on where you get your approval when you apply. This is a big savings since you will get $15 off your purchase for every $100 you spend.
Free Alterations
Since we all know that clothes that are not the proper fit can look shabby and less than stylish, this is perhaps the best reason to apply for this credit card. All your standard alterations with any purchase are free of charge. Of course, this means there is no longer any reason you should look less than perfect in anything you wear from J. Crew from this point forward.
Big Rewards
Each time you spend $500 on your card – and it's not difficult to do just this – you will receive a $25 gift card to J. Crew. We love that kind of reward, since it's a big one. Receiving a discount this large is just going to give you even more reason to splurge a bit on something you want to own from the collection. If you're getting married and looking at the J. Crew bridal collection, imagine how many reward cards you will earn!
Photo by Spencer Platt/Getty Images