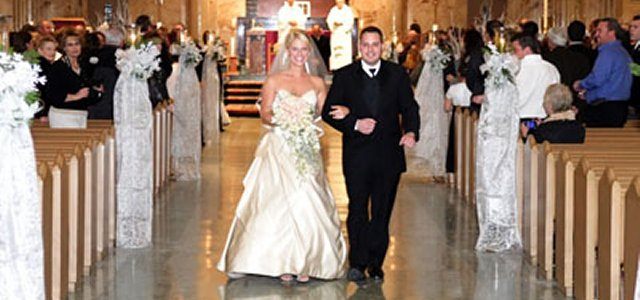 The moment had finally arrived; the door was opening and I was walking down the aisle in my beautiful wedding gown, about to marry the man of my dreams. I remember the look on his face like it was yesterday, not seven and a half years ago. His eyes filled with tears and his hand covered his mouth. At that moment, all I could think about was how I wanted to stop the slow walking and run to the end of the aisle, throw my arms around him, and get married. I also found myself wondering what he was thinking as he watched me walking down the aisle. If you really want to know what's going through his mind, here are a few thoughts from real grooms.
Relief
Women don't seem to realize that sometimes men don't understand what they're saying. One groom said his wife told him she was wearing a mermaid style dress and he was horrified until he saw her walking down the aisle in a lovely white gown that didn't look anything like a Halloween costume.
Breathless
Face it ladies, most men are just breathless when they see their almost-wives walking down the aisle.
Choked Up
Sometimes he's grateful he doesn't have to say anything right away, because he can't find his voice. Seeing the woman he's about to make his wife is an emotional experience for men.
Oh My God
Oh my God. Really. That's all they are thinking sometimes. Whether that's a good phrase or a bad one is really very dependent on the man.
Overwhelmed
When you walk into the venue for the first time and everyone gets quite and gasps in awe and appreciation, he feels overwhelmed and happy. He's happy that the beautiful vision in white is his beautiful vision and he gets to call you his forever.