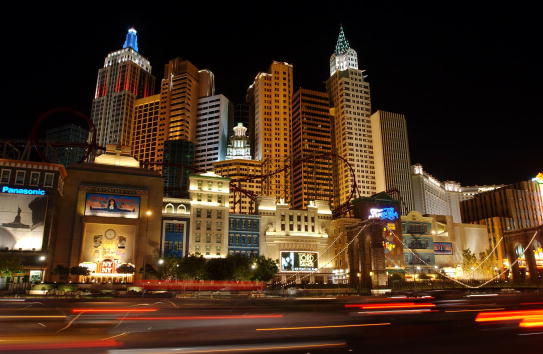 Las Vegas is a great place to get away when you want the fun and excitement of a big city combined with great shopping, great dining and great nightlife all wrapped up into a warm climate. But since you'd rather pay for the fun stuff such as the shopping and the entertainment instead of the actual trip, consider cheap Las Vegas packages. Calm down; they're not as bad as they sound. You're not about to find yourself checking into the kind of room where you can park next to your front door somewhere way off the strip in the middle of what you're certain is a scene from CSI. You're going to get to choose cheap packages that include everything you want from high-end hotels to everything in between. Booking packages to Las Vegas makes them cheaper because you're booking together. You will get a discount on your room, flight and even your rental car when booked together, and you can make those savings continue on if you know what you're doing.
Check at Least Two Things for Your Package
This should be a no-brainer considering a trip cannot be considered a package unless you book two or more aspects of your travel in one. For example, this means booking your hotel and flight together, or your flight and rental car, or your hotel and rental car. You can book all three together. You just have to book at least two for the trip to become a package and the savings to start.
Include Entertainment
Did you even know you can do this? Not many people realize this, and it comes as a bit of a surprise. You can include concerts, events, venues and other entertainment options into your package when you book a cheap Las Vegas vacation package. The prices are slightly lower and more affordable, and you get to take care of everything all at once.
Mix and Match
When a travel site or airline is recommending packages for you, don't be fooled into thinking you have to take what they offer. You can mix and match and revamp what they have to offer by changing flights, hotels and anything else you want to make this a very personal package.
Photo by David McNew/Getty Images