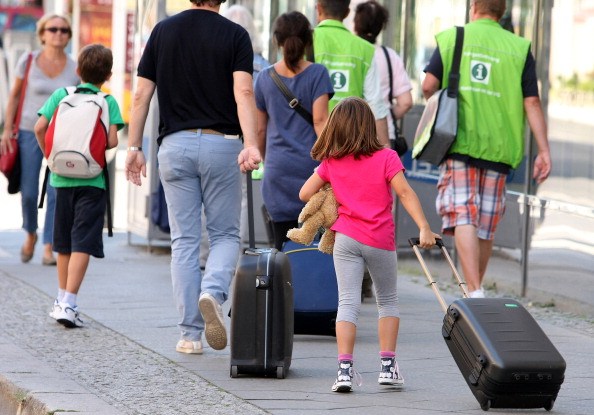 Travel is so much fun, and everyone should do it. But there is a moment in your life when you realize that the worst part of travel is not the long lines at the airport or delayed flights or bad weather. It's the actual packing portion of your trip. Remember before you had kids when packing was annoying, but manageable? Now that you have kids, however, it's a bit more stressful and overwhelming. Trust me; if there is one subject in life on which I am an esteemed expert, it is absolutely the art of packing for a family of five. Well, a family of six but do we really even count the fact that my two youngest are 16-month-old twins and kind of count as one for the moment? Packing for two adults was never my favorite, but including the kids and their 800 must-haves is absolutely a pain. On that note, I don't want the rest of you to suffer the way I did when I was first learning to pack for such a large family, so I'm going to share with you my most invaluable packing advice for large families.
Skip the Extras
If there is one thing I have learned as being so very important when traveling with my kids, it's that you do not need to pack the additional items that you would normally pack. Here is why; luggage is expensive to check, and it's even more expensive to check luggage that weighs more than the recommend weight limit. So what we've learned to do is not pack all the diapers and wipes and items we will need for an entire vacation. What I've learned to do is pack a day's worth of these items so that we can just pick up what we need when we arrive. A day's worth is helpful in case of delays and in case you have a late flight so that you can worry about these items the following day.
Pack Matching Items
I've discovered that is far more beneficial for me to do something along the lines of packing clothes that match the same shoes and vice versa than to pack many ensembles that don't match. For me, it means minimizing what we take so that we don't end up with 67 pair of shoes to go with different items. And as many women know, there is a small chance that perhaps and just maybe I pack too many shoes just for me without even beginning to pack for anyone else at that point. And when I have 8 pair, it really does mean other people get fewer. Kidding – I've learned to match clothes to a few pair of shoes so that this is not a problem.
Keep a Toiletry Bag on Hand
If you travel as often as we do, you will find that this is the best piece of advice you will ever receive. What we like to do is keep a permanent bag of toiletries packed and in our luggage so that we don't even have to bother with those things when it's time to pack. What we keep in this bag is simple; shampoo and conditioner, body wash, loofahs, toothbrushes in carriers, toothpaste, lotion for me, baby lotion, baby wash, baby wash cloths, Q-tips, hair gel, hair spray, diaper cream, Vaseline, medication and all the things that we use when we are getting ready each day. This helps so much to eliminate the need to get these things together at the last minute, and it works beautifully.
Entertainment
Kids make up a large portion of a family of five, to be quite honest. So what this means is that no matter how you travel, you must find a way to keep them entertained. This means getting them something that will keep them happy on flights and in cars, and everywhere in between. What I like to do before any vacation is get my kids' special backpacks out – they recognize these as their travel 'fun bags' and know that things are getting good. I then pick up little odds and ends such as new coloring books and crayons, cards, learning books, puzzles and other small pieces of entertainment to put in their bags. We also pack their favorite snacks to go in them as well. Additionally, their tablets are fit with new games and activities to keep them entertained. They are not to play with anything in these bags until we board our flight. It's a genius way to keep them entertained on a flight. They're so excited to see all their new stuff that they forget to be bored and irritate anyone. I'd highly recommend that you try this, too, so that your kids will be very happy throughout your trip.
Clean your Room
The most questionable part of travel for me is all the germs. You expect that staying in a four or five star hotel or resort means that you don't have to worry about that issue, but this is not necessarily true. What I like to do is bring my own sanitizing wipes along with so that when we check in, the first thing I do is wipe down everything. This might not seem like a big deal to some, but we're talking about a family of five. That means you have kids. Kids get sick so easily. I don't know about you, but I do not want my kids picking up some sort of disgusting germ in a hotel and ending up sick for the duration of our trip, so everything from the side tables to the remote controls to the lamps to the chairs are cleaned so that this chance is minimized as much as possible. We don't want our kids sick, so we make sure they're not. I'd highly recommend this, too. It can be a real mess to have a sick child so far away from home, especially knowing that it's an expensive issue to have.
Photo by Adam Berry/Getty Images