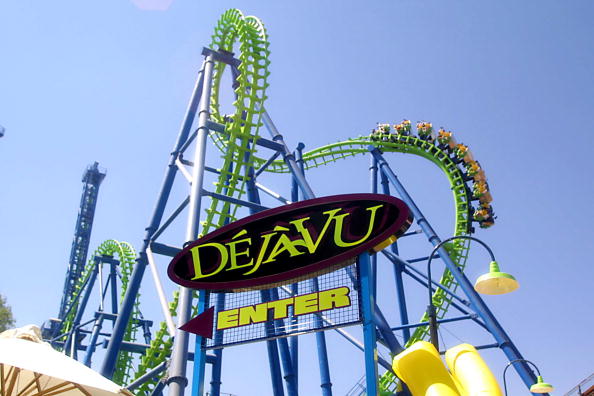 Spending money on a season pass to Six Flags might seem expensive, but it's actually not. When you sit down and think about how the cost of a season pass breaks down, it's actually really inexpensive. Of course, you have to visit more than once to make it worth your while, but if you love the theme park and visit regularly, you're going to save a bundle.
A Season Pass is Cheaper Than Two Visits
If you plan on visiting Six Flags more than two times during the year, you will save money by purchasing a season pass. The price of a pass is less expensive than the price of two full price visits. So, if you know you're going back, splurge on the pass. Use it six times, and you've essentially visited the park for less than 50% of the daily purchase price of a ticket each time. Use it more than that and the cost goes down even more.
You Get Free Tickets
When you pick up your season tickets, you get something called a Value Pass Book. In this book you will find free passes that you can give to friends to use on certain days. So not only do you get into the park free of charge (essentially) after your second visit with your pass, you can bring friends with you on certain days and it's free for them as well.
Free Admission Everywhere
Going on vacation to a city that has its own Six Flags? The good news is that you can use your annual pass at every single Six Flags in the country. That's right; you get into each of the 13 Six Flags locations free of charge with your pass. That by itself is worth the cost of a season pass to the theme park.
Free Parking
It costs to park at Six Flags, which is just another expense that's added into the cost of spending time at Six Flags. However, you get to park free of charge with every visit if you have a season pass. It's yet another way that you can make a visit to the park a lot less expensive.
Peace of Mind
You can't put a price tag on peace of mind, but you can make yourself feel much better with a season pass. Think about this; you pay for one day at the park and you get there, it pours rain and never stops. After an hour at the park you decide to go home. If you have a season pass, you don't really care all that much because you're not wasting the price of a day. You can come back anytime free of charge. Other people have to pay to do nothing in the rain all day and to come back in the future. You win.
Photo by Peter Brandt/Getty Images