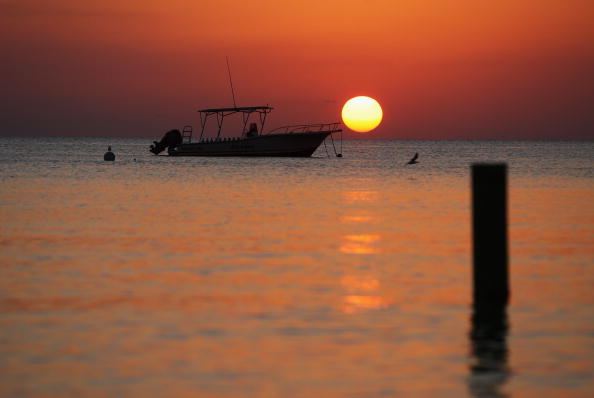 Honeymoons are supposed to be romantic. It is, after all, your first vacation together as husband and wife. However, honeymoons do not have to break the bank. So you probably won't get to go to Bora Bora on a budget, but that doesn't mean you have to spend an arm and a leg – especially if you just paid for your wedding, want to start a family or you want to buy a house – to have a fun, romantic, memorable honeymoon.
Caribbean Cruise
If you live near a cruise port, this honeymoon idea just became even more amazing. You can cruise for as long as your budget will allow, whether it's only three nights or a longer 7-night cruise. When you don't have to worry about airfare, it's so much less expensive. You will have to pay for your alcoholic beverages and soda, but all your food is included and many Caribbean cruises are reasonably priced. You can take a 5-night cruise from Port Canaveral in Florida for less than $400 per person in the fall and spring, and even some summer months and half of that during the winter months – when it's still warm in the Caribbean.
Savannah, Georgia
This gorgeous southern town is to-die-for. Its historic streets, beautiful architecture and southern hospitality make it a beautiful honeymoon destination. If you're close enough to drive, it's even more affordable. You can stay at a motel, splurge on a hotel on the water or choose a lovely bed and breakfast. Because it's the south, good cooking is easy to come by and not expensive to purchase. There are plenty of free activities you can do, including touring the historic areas of Savannah. And there are activities that might cost a little, but not too much, such as tours of the city.
Sanibel Island, Florida
This gorgeous Florida beach is one of the most beautiful in the world. The island is nothing but white sand beaches, clear blue water and so much nature you won't know what to do with yourself. There are hotels, motels, and bed and breakfasts that will fit your budget or even come in way under budget. Additionally, you can spend your days enjoying yourself on the beach, on the water or in nearby Fort Myers, enjoying the shops and antique stores. It's an affordable beach vacation that fits almost any budget.
Santa Fe, New Mexico
It's a beautiful location that's often overlooked by people. Think about the romantic sunsets over the mountains, the warm desert weather, the beautiful glowing oranges and the blue skies. As long as you choose a hotel away from the Plaza, you won't pay much to stay here, but you'll enjoy every second of it. You won't have to splurge on meals, but you should splurge on something like a horseback ride or a hot air balloon ride while you're here. You're on a budget, but this is your honeymoon, after all.
Cape Cod
New England is one of the most beautiful places in the world. No matter what time of year you honeymoon here, you'll enjoy it. The fall is a beautiful time of year to visit because everything is still open, the tourists are mostly gone, prices are cheap and the color-changing is breathtaking. You'll still be able to dine on the water, take comfortable walks around beautiful neighborhoods and waterfront properties as long as you don't visit in the winter. You'll love to spend time in Cape Cod; it's romantic, inexpensive and absolutely perfect for honeymooners.
(Photo by David Rogers/Getty Images)