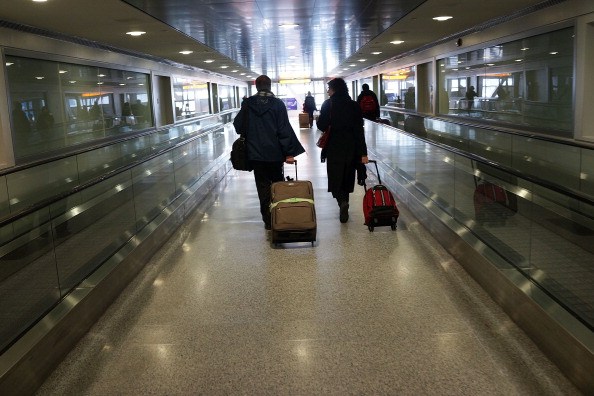 Someplace you've never been is now checked off your bucket list as you prepare to leave on that dream vacation, or even just that long weekend getaway you desperately need after the crazy few months that is the holiday season. No matter where you go, you have to make a few important financial considerations before you leave. Most people assume that financial issues only have to be taken care of if they are traveling abroad, but you actually have to take the same financial steps before you go somewhere domestically if you really want to prepare yourself for what's really important.
There is so much travelers fail to consider when they are leaving home on vacation. Before you book that trip, we have some advice that might help you save money and prepare to be away from home. It's also going to help you feel a bit more comfortable and relaxed leaving town, since it's going to give you the opportunity to be financially protected. We have some financial advice for you before you head off on that amazing trip that will help you travel smarter, rest easy and not worry about thing that are out of your control once you are out of your own home.
Travel Insurance
It's not for everyone, but travel insurance is something you should consider before you leave to go anywhere. Even if it's just minor protection that will cover you if you need to cancel your flight or trip for illness or a death in the family, you should consider the financial implications of what it will take to have to change or cancel your travel plans. We have some tips for you. Something to consider is whether or not you can cancel your travel plans last minute without paying a fee. Some hotels allow you to cancel up until the date of your arrival without penalty. Sometimes the penalties are very insignificant and not worth the additional cost of insurance. Other fees, such as changing the date or time of a flight, might be very minor. If the cost of changing your insurance is less expensive than the cost of actually buying an insurance policy, don't buy one. However, if the cost is less for the travel insurance policy, you might consider this as an option. Additionally, if you plan on traveling abroad, a travel insurance policy is a good idea considering the fact that it will provide you with overseas medical care and other options that might not otherwise be available to you.
Credit Cards
Did you call your credit card companies and your bank to let them know you'll be traveling? The biggest mistake many cardholders make is only calling when they are going out of the country. Did you know that your credit card company might decline your purchases if you are just out of the state? It's true. In fact, it's happened to me on several occasions. American Express is very big on wanting to know when you will be gone, and they will likely decline purchases made with your cards if you are too far from home. It's happened to me, and it's something I had to learn the hard way. Call your card company and let them know when you are leaving, where you are going and how you plan on spending your time. This heads up will minimize your risk of being declined when you reach your destination. Additionally, you should also take the time to take at least two different cards with you, but don't carry them at the same time. Keep one in your hotel safe just in case you lose one while out or in case your belongings are stolen.
Furthermore, bring your account information with you so that in case your cards go missing you can call the companies and let them know immediately so that you are not liable for any purchases that are made by anyone who might have your card in their possession.
Cash
You do need cash on you when you travel. It's important you have a least a few dollars on you for cab fares or other incidentals that require cash but might also require you spend a little bit of time preparing. In regards to cash, you should also have already researched the ATM locations near your hotel, your airport and anywhere else. Map them, write them down and know where they are. You should also research the ATM fees where you are going so you can decide whether or not you just want to go ahead and get your cash now so you can save on big fees. Knowing where to find cash is always important, and also knowing that you shouldn't carry all of it on you when you are traveling is just as important. Utilize that hotel room safe for things like this.
Important Documents
It's not pleasant to think about, but it is necessary. Do you have all your important financial documents in place should something happen to you when you are traveling? This means your will, your life insurance policies and everything in between. Have you considered what you will do with your children if anything should happen to you? Do you have a beneficiary for your life insurance? Are you traveling with your spouse, who might be your beneficiary? If so, you will need a backup plan. You will need to change your financial documents to provide for your kids and whoever will take care of them in your absence or in the instance of your death. These financial documents should be placed somewhere easy to access by your parents, relatives, friends or whomever is in charge of that information should anything happen to you. We know you don't want to think about this stuff prior to a wonderful vacation; there is no faster way to suck the fun right out of vacation than to prepare for the worst, but you will certainly be glad you implemented these steps prior to your departure.
Travelers Checks
These are something many people no longer bother with, but it's not a bad idea to get just a few just in case. It's true that you never know when you might need a traveler's check when you are away from home. We always advise taking as many precautions as necessary, and we advise that you consider every possible scenario so that you are prepared for all that could happen when you are away from home on vacation.
Photo by Spencer Platt/Getty Images