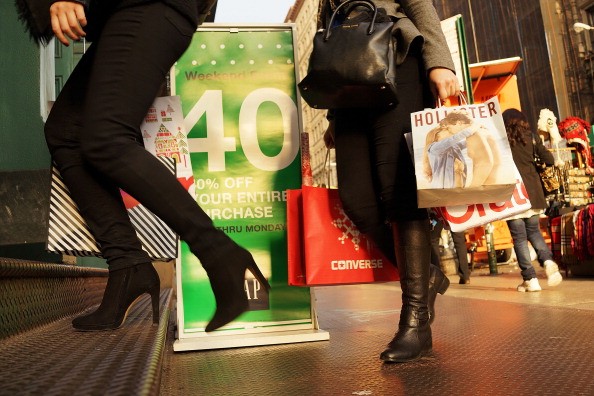 With Christmas approximately 7 weeks ago, discount shopping days are a major topic of discussion. It's the most wonderful time of the year, yet the vast majority of Americans are facing more stress than ever. Perhaps money is tight and you worry that your kids will feel let down that Christmas is not what they are used to experiencing every year. Perhaps you feel the overwhelming pressure to keep up with the Jones' and have no idea how you're going to accomplish that. Perhaps you are counting on discount shopping days to afford even the smallest of Christmas holidays this year. Whatever it is, discount shopping days are a big deal this time of year. Surprisingly, however, the holiday season is not the best time of year to find the best discounts.
As we begin our frantic search for door busters and deals on Black Friday 2015, we consider this one of the biggest discount shopping days of the year, whether it is or not. There are some of us who have not even begun our Christmas shopping yet (guilty) and others who are mostly done at this point, taking advantage of other discount shopping days throughout the year. Black Friday is not the only big discount shopping day of the year; there are plenty of others. Perhaps next year you can spread out the holiday cheer just a bit by spending a little bit more here and there on the  many big discount shopping days throughout the year instead of all at once on Black Friday.
Cyber Monday
One of the best discount shopping days of the year falls just after Black Friday. This is a day in which people are encouraged to stay home and shop, and it's a huge draw. You can shop early or late, you can wear your pants or go without, you can sip a glass of wine and there is never a parking spot to worry about finding (if someone else took your spot in the garage, it becomes a bit of a domestic dispute at this point). It's a great day to shop since retailers know that many shoppers prefer this day for several reasons.
Not everyone is located near the stores they prefer (I buy almost everything I own from Nordstrom, and the nearest one is over an hour away so I shop online)
Greater selections online
Ease of price comparison online
More sizes and items online
No holiday traffic to deal with
Cyber Monday is one of the biggest discount shopping days of the year these days, and it's only getting bigger. It is always the Monday following Thanksgiving, and it is always a hit. Prices are slashed dramatically, free shipping is offered and a number of other big sales occur on this day online. Get with it and save big time on Cyber Monday.
Green Monday
For some, this sounds appealing for one reason; saving the environment is a big deal. Sorry, discount shoppers, this is not a day that's about buying environmentally friendly product. It's a day about saving money and that's why it's green. It's always the second Monday in December (as created in 2007 by eBay) and it's one of the newest and biggest discount shopping days of the year. Since its inception nearly a decade ago, Green Monday has become the third largest shopping day of the year (as far as discount shopping days online are concerned), and many people rely on these sales to help them afford to make their Christmas purchases.
Not all retailers take part in Green Monday, but some of the biggest stores in the world do.
JC Penney
Sears
Walmart
Macy's
Amazon
And more
Nearly 70% of all the major retailers in the world offer at least a few deals for shoppers on Green Monday if for no other reason than to compete with other retailers on this major discount shopping day. It's just in time for Christmas, so it finds that many people are willing to spend money to buy the discounted items available on this shopping day.
Small Business Saturday
It seems as if most of the biggest discount shopping days of the year happen right around Thanksgiving and Black Friday, and it might be true. Small Business Saturday is the day after Black Friday. This is a day in which the world is encouraged to go out and support local businesses, small businesses, so that they may help grow their local communities. Since so many shoppers are out the day before putting big money in the pockets of big retailers, small businesses want their customers to come in and take advantage of the sales that they have to offer, too.
According to information reported in recent years, the number of people that utilize this particular discount shopping day has increased more than 14% in just one year (2013-2014). Since small businesses are everywhere and they are not national, we don't have a list of participating stores for you. However, some big companies are offering rewards to anyone who shops local businesses on this particular discount shopping day, including American Express. AmEx is offering as many as 3 $10 statement credits for anyone who shops local on Small Business Saturday.
Super Saturday
It's the day that most all last minute shoppers are going to take advantage of. There's no church, there is no work for many, and it's the last day that many Americans have to shop before the Christmas holiday arrives. It is the last Saturday before Christmas and it's one of the biggest discount shopping days of the year. Many retailers look to make last minute sales on this day, hoping to find that the shoppers who have not yet finished their shopping (or remembered that last gift they have to get) are out in full force spending money and making it a point to shop. Almost every single store in the country participates in this big Saturday sale, hoping that they can lure in the most shoppers and the most money during this discount shopping day.
Kmart
Sears
Target
Walmart
Best Buy
Lowes
Home Depot
Kohls
Old Navy
These are just a sampling of the many stores that offer discount shopping days prices on their items on Super Saturday. Everything purchased this day is typically on sale even more than it is sometimes on sale Black Friday, which is one of the reasons so many people choose to do their shopping on this discount shopping day. Deals will be announced as the day comes closer, but deals are usually good on electronics and even appliances on Super Saturday. As far as discount shopping days are concerned, this is one of the better ones, and it happens all over the country.
Free Shipping Day
I will never forget two years ago when my husband and I began a tradition we didn't even know we wanted to have. We decided to spend a date night one Friday night shopping. Our kids were at a sleepover with their grandmother, so we went to dinner and decided to do a little more Christmas shopping afterward. The stores were open late and we took advantage of that since we were able to sleep in the following day.
We were mostly finished shopping for our (then only two) kids, except for one thing that our daughter told us repeatedly she wanted. A flutter-something or another fairy that was the hottest toy of the year that year; I was about 25 weeks pregnant with twins and exhausted so we figured we'd go to the toy store, grab it and go. Except we could not find it. We could not find it at any toy store, department store; nowhere. It was sold out everywhere. That meant I had to buy it online and pay almost as much to ship it here in time as I did for the actual toy. It was not a discount shopping day for us that year. Now we make a late date night to shop together every year, because we had so much fun together – but that is not the point of my story.
The point is that free shipping day is a good one. It's December 18, 2015 this year, and it's a huge bonus on the list of discount shopping days. This one guarantees free shipping by Christmas on all items you purchase; and it means you get to take advantage of all the other freebies being offered that day, too; and there are always several of them.
Photo by Getty Images