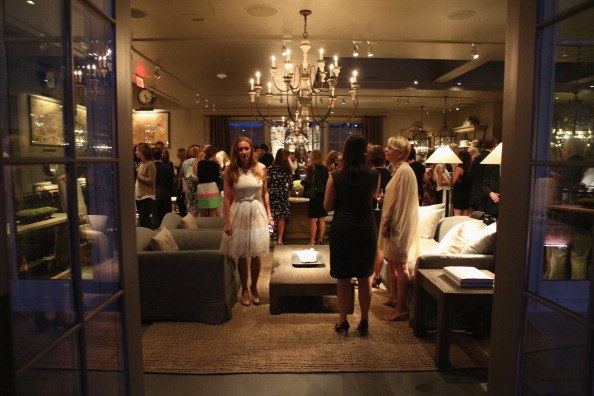 Our oldest daughter is turning 7 in July, and that reminds me not that we are growing older and time is passing too quickly (it is) but that it's been about 7 years since I last overspent at Restoration Hardware. See, I've always been a lover of Restoration Hardware, Pottery Barn, Anthropologie, Crate & Barrel and Williams Sonoma; they're my weaknesses in the non-apparel category. I've decorated two little girl bedrooms, the twins' nursery and pretty much the rest of our current house and our first house with things I've purchased from these amazing stores, but I no longer overspend to do it. Go ahead and hate me now, but I have not spent full price on anything that I've purchased at Restoration Hardware since I decorated our oldest daughter's nursery (and I do regret that, as gorgeous as her bedding, bed, décor and accessories were). Oh, who am I kidding? You can't hate me; I'm telling you how to score majorly at Restoration Hardware and you'll have to thank me.
Start with the Outlet
Did you even know Restoration Hardware had an outlet store? Yeah, most people don't realize this. There just under 20 of them in North America, however, so it's not an option for everyone. The outlet does not do phone orders, online orders and they do not ship anything. What this means is that you have to show up and buy on the spot – and have a way to get things home.
The good news, however, is that prices are practically free here because everything is kind of damaged. We say kind of because some things are really damaged. They have knicks, missing pieces and major discoloration. Other things are slightly damaged in that you might have a bed without a tag on it or a table that has a small scratch on the back (where no one will ever see it). You have to go in and check for yourself, but most things in here are totally worth the price. You might be surprised what you can find for what price when you're in here. Let's just say I have a Restoration Hardware couch I eyed for thousands at one point and I paid less for that than I do for my cell phone bill each month when I found it at my local(ish) outlet.
Get on the Floor Models List
If you're desperate for that amazing table that looks antique but you are not going to pay $3000 for it, ask someone to put you on the list of people to call when they put it up for sale as a floor model. The store actually remodels and redesigns every six or so months, which means everything that's been on the floor for that timeframe is out – and it's out at 60% off. That's a big savings on anything, and you should be able to get on that list. You might get lucky sometimes, and you might not. Sometimes the item is damaged from being touched and abused and you might not want it. Sometimes you're not the first person on the list. But get on it – it's worth it.
I ended up with a gorgeous $2000 rug that was a floor model for months but barely looked like it when I happened upon it and they were out of stock. The sales associate informed me that they no longer had the rug, but that I could purchase the one from the floor if I really wanted it at 60% off. I said yes, and it was all by accident. It's one of my favorite purchases to date.
Get Familiar with Sales
While Restoration Hardware is not known for their discounted prices and amazing sales, they do have some seriously good sales throughout the year. You just have to know when they are and get to them as quickly as possible before all the good stuff is gone. For example, the week before Thanksgiving is always the Friends and Family event where everything is 20% off. This makes for nice savings on anything from small purchases such as nursery bedding to larger purchases such as décor.
Spring brings about a great décor sales event, too. The store offers a 20-50% off all bed and bath items and furniture to welcome spring every year. The first day of the event changes yearly, but you can sign up for the store's emails and catalogs – or just ask – to find out when it will be when you feel the need to shop for new bed and bath items.
Finally, the best sale of the year happens the first week of every near year. This is the annual sale that allows you to save anywhere from 25% to 75% off everything in the entire store, which is not a sale to be laughed at. This is the first week of every year, so go ahead and mark your calendars. And try not to go overboard at Christmas so that you can go overboard a bit more in the New Year when it's time to shop for things like this. It's a great way to save a bundle when you shop here.
Save on Shipping
It's not the most lucrative way to save, but you can save a bunch when you order in the store. Shipping on big items is not always affordable, but it can be if you order in the store. This allows you to save on shipping because it's free. This is far less money than ordering online and spending on shipping. Trust me – if you have a big purchase to make, save a lot of money by heading into the store and ordering it there. They'll ship it for free and save you a bundle.
Now that you know how to save a ton of money at Restoration Hardware, how long will it be before you have your house redecorated and looking a lot more like the vision boards you have created thanks to the Restoration Hardware catalog?
Photo by Roger Kisby/Getty Images for Restoration Hardware