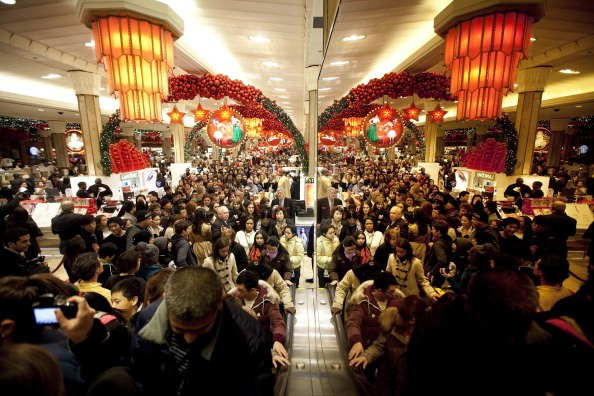 Depending on who you are and how you might take advantage of it, Black Friday is the day in which the best deals can be obtained, with people literally knocking out their entire holiday shopping in just a few hours.It may still be six weeks away, but it's never too early to start thinking about the best (and worst) shopping day of the year—Black Friday. As difficult as it can be to get inspired to make it to some of your favorite stores as early as about two-in-the-morning to make sure you get the best spot in line for first dibs on items, I will tell you that it's definitely worth it if you're looking to save serious money. How much, though? After digging through some numbers on last year's Black Friday—which is a day where retailers drop prices to help go from red to black on their sales records—I've got some info on the top 10 stores in which you want to make sure you're at the day after this Thanksgiving.
10. Walmart Black Friday 2013
It really doesn't matter what you're looking for when you head to Walmart on Black Friday, because there's a very good chance that the store will have it on sale. Based off off last year's advertised deals, Walmart seemed to outshine many of their competitors across the board, with things such as the price of flat screen TV's being reduced by as much as $300 on some models. There's no telling what the store will do this year, but seeing how Walmart claimed to have racked up over 10 million transactions during the day last year, I bet they'll have similar deals, so be sure to get there early for whatever you have your eyes on.
9. Target Black Friday 2013
Although Target didn't boast as many electronic deals as the aforementioned Walmart did in 2013, the retailer still did do a good job of racking up sales—with an estimated sales growth of about 0.5 percent. That might not appear to be a lot—seeing how they were aiming for 3-4 percent, but that's still something to be excited about. While other big shop retailers look to advertise big-named products, Target is a bit more subtle with there's, focusing on consumers digging deep for the deals on lesser known items.
8. Best Buy Black Friday 2013
Anytime a shopper goes to a Best Buy, there's one thing that's on their mind—electronics. Whether it's to pick up the newest video game console or a new sound system, Best Buy often has the most stocked items and best selections. For that reason, it's important for shoppers to do what they can to get into the store before the things they want get snatched up. From laptops to flat screen TVs, Best Buy offered pretty ridiculous discounts—to the tune of over $200-$350 off.
7. Kmart Black Friday 2013
One of the few stores that actually jumped on the Gray Thursday bandwagon by offering deals on Thanksgiving Day—which might seem a bit absurd to some seeing how some stores were open for 41 hours—Kmart has shown to be determined in taking their sales efforts to new heights through the holiday weekend. Some of the highlights last year was Kmart's toys, jewelry and holiday decoration deals, which, although not great in competing with big box items like electronics, did add up to as much as 80 percent off for shoppers.
6. Kohl's Black Friday 2013
With its 64-page Black Friday ad booklet boasting an insane 500-plus deals in it, Kohl's had something for everyone on sale in 2013. Unlike some of the aforementioned stores, Kohl's primarily makes their money from home furnishings and accessories like bedding, clothing and apparel, meaning they aren't typically going to be making the most out of the retailers—but may offer the best deals for consumers. With varying levels of deals for both the early-birds and the night-owls, shoppers can take advantage of as much as 60 percent off on items like kids' clothing and luggage.
5. Sears Black Friday 2013
With over 1,000 items for consumers to try and get their hands on, Sears had nearly everything in stock on some sort of deal during last year's Black Friday. With some discounts on electronics—ranging from $100-$250 in savings—the items were limited to just a few TVs and sound systems. Unsurprisingly, the store really made the most money on home and home improvement items like tools and workout equipment. For those looking to either get back into shape or build something in their backyard, Sears is the ideal place to get what you need.
4. Toys "R" Us Black Friday 2013
With a name like Toys "R" Us, it's no secret what this store is best known for—toys! Last year's doorbuster deals included over 30 pages of items to choose from, with many of them at over 50 percent off. On top of the featured items that have big savings on them, the store offered customers who spent over $75 during their visit a special of $10 off their next purchase during the Black Friday weekend. For all the little tykes in your life, there isn't a better place than Toys "R" Us to get everything they want on their holiday wish list.
3. Home Depot Black Friday 2013
For those looking for major deals from Home Depot last year, the fact of the matter is they didn't offer many different deals than what they typically offer—which are still pretty nice. Sure, the company put out a 32-page ad booklet, but many of the discounted items weren't things that weren't already advertised as being marked down. Still, that doesn't mean consumers weren't getting treated nicely. Some products were even marked down $1,000 off their regular price. The store made most of its sales on savings from appliances like refrigerators, dishwashers and other kitchen accessories, which helped shoppers save anywhere between $100-$500.
2. Lowe's Black Friday 2013
Lowe's might not have had tons of pages full of deals—their ad booklet was "just" 24-pages—but that doesn't mean they didn't take care of customers last year. The most popular items marked down were that of the home improvement variety, with things such as tools and accessories and holiday decorations at the forefront of savings. Those looking for a more diverse selection might want to venture to the Lowe's Pinterest board prior to this year's Black Friday, where even more items will be on display for purchase.
1. Old Navy Black Friday 2013
Want to be rewarded for actually braving the crowds on Black Friday? Well, Old Navy might just have you covered. In addition to the store slashing prices, the retailer also presented customers a chance to win $1 million thanks to their "Overnight Millionaire" contest offered to the first 500 shoppers lined up outside the store on Black Friday. Now that's a giving mood. The savings didn't stop there, though, as Old Navy marked down nearly the entire store by 50 percent on Thursday and Friday, with the deals still at 30-40 percent through the weekend. So if you're looking for fashionable clothes at a great price, make your way to Old Navy throughout the holiday weekend.
Photo by Michael Nagle/Getty Images