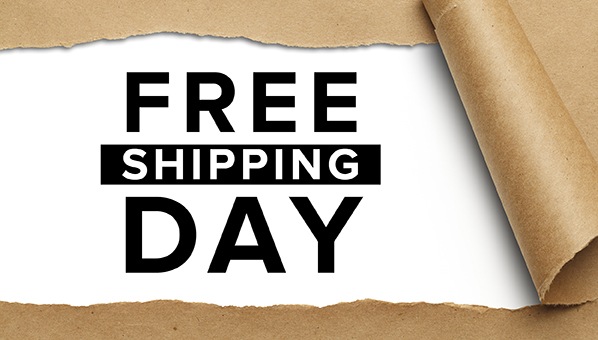 The biggest shopping days of the year are during the holidays. Almost every store know this, therefore, they start advertising sales. Many have their biggest sales on Black Friday, which occurs on the Friday after Thanksgiving. Some retailers will start their Black Friday sales on Thanksgiving Day. Another huge shopping day around the holidays is Cyber Monday. It falls on the Monday after Black Friday, and online retailers have their holiday sales. One last huge shopping day is Free Shipping Day. If you have never heard of this shopping day or if you want to know more about it, read on.
What is Free Shipping Day?
Free Shipping day happens one day a year, and it is a coordinated event with online retailers who want to take advantage of this day. It falls on a different day each year, and if you shop that one day with a participating retailer, you can get your items shipped to your home for free, and they are guaranteed to arrive by Christmas Eve. This year is Free Shipping Day's 9th year.
Who Started Free Shipping Day?
Luke Knowles and his wife are responsible for Free Shipping Day. The couple created a year long website called FreeShipping.org in 2007. In 2008, they decided that it would be nice to help people save around the holidays. The first year was a relatively small program since they had just a few weeks to put the whole thing together. Luke was sure that retailers would want to get on board since online shopping had become so popular. Luke and his wife also wanted to help last minute shoppers buy the gifts that they needed and ensure that they arrived on time.
Amazing Results Early On
After its 2008 launch, the Knowles' decided to make Free Shipping Day an annual thing. In 2011, the day was so huge that there were over $1 billion in online sales on that day. This is a 76 percent increase from the profits the year before.
Are There Any Exclusions?
In the beginning, retailers who signed up to participate in Free Shipping Day didn't have any guidelines to follow. Some merchants offered free shipping with minimum order requirements. In 2013, Luke decided to make things much easier on the buyer and very simple for the merchants to understand. They created guidelines where anything that a person buys on Free Shipping Day would be shipped free, no matter how much or how little the merchandise costs. This makes things very simple for everyone involved.
When is Free Shipping Day 2016?
This year, free shipping day will fall on Friday, December 16th.
How Do I Know What Retailers Are Involved With Free Shipping Day?
There are two ways you can tell if your chosen retailers are going to be participating in Free Shipping Day. The first is by visiting the retailer's website. If your retailer is going to be participating on the big day, they will likely have some type of announcement on their website. Another way is to visit http://www.freeshippingday.com/. If you are looking for a particular retailer and you don't see it on the website, you might need to wait. All of the merchants involved will be listed on the website at 12:01am Eastern Standard Time on Friday, December 16th. There are some merchants who like to wait until the last minute to make their announcement.
How Easy is the Site To Use?
The Free Shipping Website is extremely simple to use. Even the not so tech savvy person can maneuver around the site. The site's main page has all of the merchants who will be participating on the big day. If you see the merchant that you want to buy from, you would simply click the blue "Visit Side" button. This will take you right to the merchant's website to shop. If you know what you want to buy, but you don't know where to buy it, you can click on the "Show All Categories" drop box. A variety of categories will drop down, such as health and wellness, home and garden, baby and kid's, food and drink, automotive, and the list goes on and on. Once you have selected the category that you are looking for, all of the merchants who sell items in that category will pop up. You just need to select the site that you want to shop on.
Free Shipping Day Is Relatively New. How Do I Know I Can Trust It?
Each year around the holidays, a new scam artist comes out of the woodwork to try to dupe a poor, unsuspecting shopper. If you are worried about Free Shipping Day, you shouldn't. The day has been featured on news segments on CNN, Fox News, ABC, and NBC. It has also been featured in USA Today and NPR. This day, its organizers, and its merchants all have an excellent reputation.
I'm a Merchant. How Do I Sign Up?
Signing up as a merchant is simple. Visit http://www.freeshippingday.com/merchant-sign-up/. You would simply fill out the information about your business, your website, and your offer. As long as you get it in by December 16 and; you are willing to offer free shipping with no minimum purchase with delivery by Christmas Eve, you will be signed up Also, you can add your store's logo so that your customers can find you easier, however, it is not required.
I'm a Merchant Who Signed Up Last Year. Do I Need To Sign Up Again?
If you participated in Free Shipping Day in the past, even if it was last year, you would still need to sign up this year. Your participation doesn't carry over from year to year.
I'm a Merchant. What If I Have a Limited Quantity of My Product?
If you expect to run out of your item, you can set your offer to end at a specific time. For more details on this, you can contact the Free Shipping Day administrators at [email protected] .
If you haven't finished your holiday shopping and you want a deal, you should take advantage of Free Shipping Day on December 16, 2016.