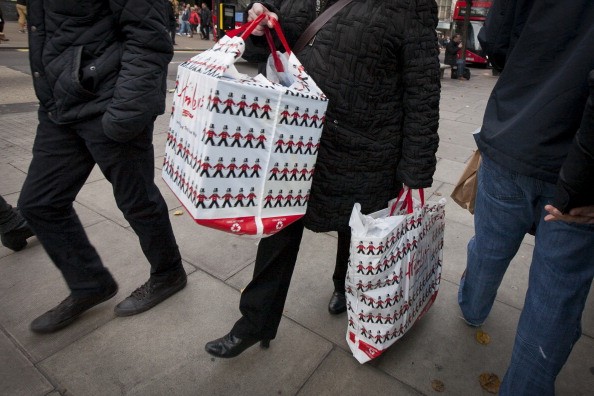 As the mother of four kids that includes a set of year and-a-half old twins and the wife of my high school sweetheart, you might think that something as small and insignificant as a holiday shopping budget would be cake. In reality, my holiday shopping budget is my downfall. I have a spotless home (because I'm a neat freak), four kids who always look put together, clean and adorable, I manage to do my own hair and makeup every single morning and I still get things done with confidence and ease. I am not afraid to say that I'm a rock star – until it comes to holiday shopping.
I fail miserably when it comes to budgeting during this season. I say that this will be the year, every year, and so far at 32, I have never had a holiday shopping budget year that made it. Great intentions do not make for success. Apparently, success requires work, dedication and actual effort. This is why it's so confounding to me when someone else says that they are done holiday shopping weeks early, well under budget and relaxed while I'm a week away from Christmas and still shopping like a maniac even though I'm not sure why I'm not already done.
If you are like me and the holiday shopping budget drags down your not-so-bad-at-life status, you might want some tips. They are not mine, since I'm a holiday budget failure, but the shopping experts and financial experts – and some dear friends of mine – swear that these are the tips that help shoppers maintain their holiday shopping budget with ease.
Create a Budget
It's really easy for me to see where I go wrong; I don't choose a budget. I say I'm not going to spend a ton every year, and then I do. Perhaps I should pick a number and stick to it. It's a great start. Take a look at your income, your expenditures and your lifestyle and ask yourself what you can afford for Christmas. Do you get a holiday bonus or do you have a Christmas club account at work that's been stockpiling cash for you throughout the year so you have money saved when it's time to shop? What can you afford? Knowing the answer to this question is a great way to ensure that you stick to your holiday shopping budget; because, apparently, actually having a budget is the first step to sticking to it. The average U.S. consumer spends $805 on holiday shopping (which, I'm sorry, is amazing to me that anyone can shop for under $800) but I know I – and most people I know – spend far more than that. Just ask yourself what you can afford, don't worry about anyone else, and pick a number.
Make a List and Check it Twice
Now that you know what you can spend, sit down and get to work on a list. It helps to further break down your holiday shopping budget when you know who you are shopping for, what you want to get them and how much you can afford to spend on each of them. I'd use my holiday shopping budget as an example, but based on what I've spent so far and how much shopping I have left to do, I'm more than a little embarrassed at how much money I spend this time of year and I'd rather keep that to myself.
Let's get to your list; make one. Add everyone. My list looks like this:
My husband
My mom
My dad
My mother-in-law
My father-in-law
Our four kids
Our 12 nieces and nephews
4 teachers
I shop for 26 people every year. I know that I like to keep teacher gifts in the $30 range (something cute and tangible and a $25 gift card), and I know that I spend far too much on all of our kids and my husband – who I cannot stop buying gifts for no matter how hard I try. If I was serious about a budget, I'd take the amount I want to stick to and I'd divide it up among the people on this list, spending more on certain people and less on others depending on who they are and our relationship with them. Once I finished this, I'd keep my gifts in mind so that I stick to budget.
Create a Cash System
I have a great friend who is big on budgeting. She and her husband own a multimillion dollar business and she is the most amazingly frugal person I know, and that is something I love about her. She's not cheap, by any means, but she's also the least wasteful person I've ever met. She makes her holiday shopping budget for the 30+ people on her list every year, sticks the amount she'd like to spend on them in an envelope in her bag and she buys their gifts using their envelopes. Once that envelope is empty, she buys nothing else for that person. She does this every year – and we shop together every year – and she never spends more than she wants to spend. She's really amazing.
If you aren't comfortable carrying that much cash around, you could set up a cash limit some other way, such as on your phone. Shopping online is another great way to do that so that you don't go overboard.
Look for Good Deals
This year, I actually found a great deal and I'm super proud of myself. I bought my husband an Apple Watch (and I'm hoping he's too busy to read this), but I did not buy through Apple. I happened to write an article last week about a great deal Target was running; buy select Apple Watches through them and receive a $100 Target gift card. Since Apple is notorious for never offering sales, I took it upon myself to give myself a discount. I ordered his watch from Target for $699, got a $100 Target gift card in my inbox about four hours later and decided to use that to go to Target and pick up other gifts on my list. Essentially, for the price of one Apple Watch, I also got two of my nephews toys for Christmas. I felt that was a win.
And Target is not the only store that does this; though they do it a lot. All you have to do is look for deals like this when you are shopping and you kind of get free items in return, which is a great way to stick to your holiday shopping budget.
Think Smart
Several years ago, we realized that our very close group of friends was really just exchanging gift cards for Christmas. We'd spend a lot of money on gift cards, get the same amount back and then have hundreds and hundreds of dollars in gift cards to one restaurant. I mean, honestly; we decided then that it was time to stop buying one another gifts and just plan the best gift of all. That would be the gift of a night out without any of our kids, a driver and the entire evening to go out to our favorite restaurant and enjoy the company. This kind of smart giving is a great way to save money, especially since it took us three or four visits and entirely too many bottles of wine to use up those gift cards before – we are saving around $400 doing it this way.
Think One Santa Gift
I know that Santa works differently in every house. In our home, he is the giver of the big gift. Each of the kids gets one from Santa and he likes to keep them in the same family. For example, if our older daughters receive 4-wheelers, our twins receive their own toddler-friendly four wheelers. If they want bikes, they all get bikes, and so on. However, we know a family that does one big gift for all the kids, such as a trampoline or an outdoor play set or something of that nature. It's a much less expensive manner of buying gifts, especially when you consider buying four four-wheelers is something that costs upwards of $3,000, and that's with two that are made for toddlers and only cost a few hundred a piece. Buying one gift for all the kids to enjoy together is wonderful, and a great money saving holiday shopping budget saver.
Save Receipts
I spent Sunday shopping with one of my closest girlfriends on our annual shopping day. She found two items that are fairly pricey she purchased for her kids a week or so ago on sale significantly less than what she paid. So, she made the decision to use the receipts she saved, return them and re-purchase them for the lower amount. She ended up saving more than $100 doing this. Don't be afraid to stick to your holiday shopping budget by doing the same. Most stores are happy to reimburse you the difference in price if something goes on sale right after you buy it, or at least provide you with a store credit so you can return it and buy it again for a lower price. It's a great way to save.
Shop Throughout the Year
This is a big one; and one I had no idea people used. If you want to stick to a holiday shopping budget, have fewer gifts to purchase during the holidays. I have a friend who will go out and buy things like clothes she knows the kids in her life will love when they go on sale throughout the year. If that means she finds an awesome doll on sale in February, she will buy it and give it to a child at Christmas. It helps her spend a little here and there, rather than so much all at once. It's how she is able to create a holiday shopping budget and stick to it without issue.
Save Throughout the Year
This is one that might help you a bit more next year than this year. Something that I've heard people do to help them stick to a holiday shopping budget is save throughout the year specifically for this holiday. What they will do is stick $50 a week away for the entire year so that they can shop at Christmas with a larger budget and a lot less stress. That's $2,600 in savings for Christmas, though you might be able to do more or less. If you can only do $20 per week throughout the year, that's still $1,040 you have additional to spend during Christmas. If you can save $100 per week for the year, that's $5,200 you can spend. It all depends on your personal finances, but it is a great way to save and stick to your holiday shopping budget.
Check the Budget
If you do make a holiday shopping budget, you have to actually stick to it. If you want to be budget-minded, you have to check on it every single day. You cannot allow a day to go by that you do not check on it. This means being very vigilant, updating it and checking on it every time you shop online or in the store. It's going to keep you on track, allow you to spend only what you want to spend, and keep you from going over budget. It's not that much fun to sit down and update this math all the time, but it is the best way to stay on track all year.
Photo by Getty Images