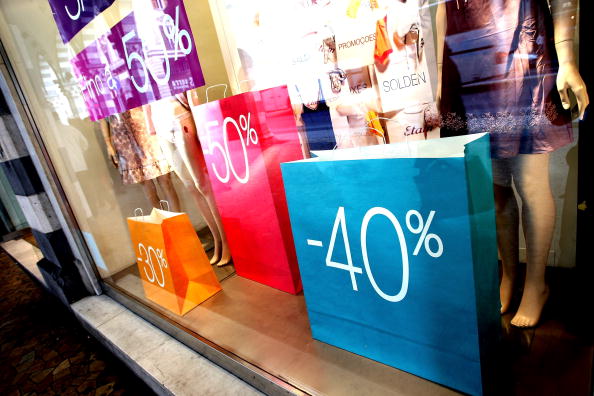 After receiving an email recently that it's finally time for the Half Yearly Sale at Nordstrom, I decided to get online and do some serious shopping. After all, the twins are growing like weeds and their little feet are quickly outgrowing their Sperry deck shoes and it's time for bigger sizes, and mommy always needs new shoes. It didn't take me 3 seconds to realize that the "sale" wasn't really all that special and that the same Tory Burch shoes I ordered a month ago were still the same price on "sale" as they were when I purchased them – even though they were clearly advertised as being on sale during this special event. It was then I realized that retailers are really good at making us feel like we're getting a good deal. I mean, how many people are storming the Nordstrom doors to spend thousands on things that were on sale for the same price long before this special sale actually started? In the interest of saving my friends and readers a bit of money shopping for "sale" items that aren't actually the good deals that so many people believe that they are, I thought I'd do a little research and let you in on a few tricks that retailers use to completely fool us when we're shopping.
Front of the Store Discount Pricing
When you walk into a store and see a bunch of stuff you don't need that's marked down 75%, you buy it. And then you walk through the rest of the store telling yourself that you just saved so much money on those items that you can splurge a little on something else. You just spent money you were not intending to spend on things you did not come to the store to buy and then you spent more on other stuff you don't need to reward yourself. When you do the math, we are kind of stupid.
Dynamic Pricing
Did you know that companies use your browsing history, your ignored cart and your viewings to determine what they should list items for when you browse? This means that companies will see how much you will pay for a product, what kind of sales you shop most and what they can do to get you in. it's called dynamic pricing, and it's real.
Price Jacking
Old Navy is really good at this one. When I'm shopping for my kids, I've noticed that they will offer a big discount on your purchase online, and I usually fall for it. After all, who doesn't want 25% off the total order? What I've noticed is that their everyday price for a particular item might say $14.95 on Tuesday, but during the "Save 25% on your purchase" sale Wednesday, the item is listed at $19.95 regularly and on sale for $14.95 to make you think that you're getting a deal you're really not.
Prestige Pricing
We are all guilty of doing this with cars; we look at Toyota and Lexus and we see an everyday brand and a luxury brand. And people like me are happy to spend tens of thousands of extra dollars on the Lexus versus the same Toyota because it's better quality. It's actually not. It's made from the same materials and the same engine, and the manufacturer throws in a few little details that makes it seem like better quality and people spend the money.
Decoy Pricing
When a brand offers the same product with different features and the price differs by thousands, it's called decoy pricing. The company wants you to see that you could either pay $5,000 for a product or $800 for a product so that you'll begin thinking that the $800 version is a steal, when it's pretty much the same thing.
And Change
When you see a price tag that's got a $.99 or something similar just below the dollar mark, it's designed to make you feel that a product is less expensive. Since we see the first number first, we assume something is less expensive than it really is, even if it's just a few pennies shy of the higher amount.
Coupons
They're designed to help you feel as if you are saving, but chances are that you are just getting the usual price since regular prices are so marked up. Additionally, when you feel as if you are saving thanks to coupons, you're more likely to spend more elsewhere in a store.
A Sale Sign
Sometimes you will see a sign that says "Sale" and immediately buy something without even looking at the price since you have an idea of the general price range. It's not usually until you get home that you realize that the sales price on what you purchased was only a few cents lower than the actual price.
Phrasing
Nothing is more productive than phrasing a sale as "Up to 75% off" since most of us see the number and immediately see a value. What we don't notice is that the items we're spending money on aren't 75% off, they're 5% off. A set of three Carter's onesies for my twins, for example, is $14.99 full price and I can buy them during the "Up to 75% off" sale for $14.59 and feel like I'm getting a huge deal.
Sale on Bigger Items
My supermarket does this regularly. Publix has a sub shop, and we can all agree that their subs are amazing. But what they will do is offer a sales price on the bigger sandwich, and we fall for it. If I'm out running errands during the day with my twins while the big kids are at school and my husband is at work, I might pick up a half Boar's Head turkey sub for myself for lunch. The price for that is usually $5.79. They'll tell me that a whole is on sale, and I'll buy it. What this means is that I just spent $6.99 on a whole sub even though I'll only eat half and get rid of the other half because I don't eat sandwiches from the fridge and the bread gets soggy after a while. What a waste.
Photo by Vittorio Zunino Celotto/Getty Images