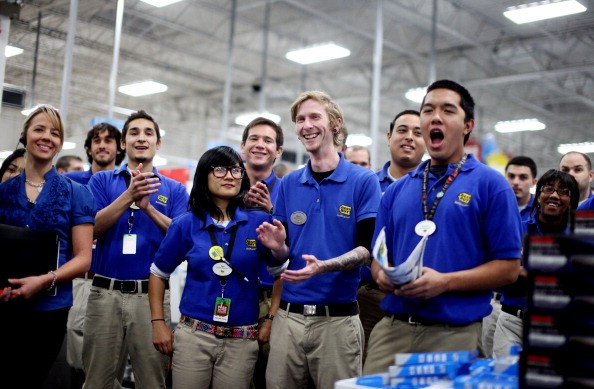 Black Friday can either be really fun or really stressful. With thousands—OK, millions—of people rushing to the store in order to get the best deals on the items that they want the most, it can be difficult trying to beat the mad rush and wind up with what you're really after. But just because it is pure madness at stores all Thanksgiving weekend doesn't mean that it has to be a bad experience. Like most things, all you have to do is prepare yourself, making sure that you know what to expect and head directly for those items, so not distracting yourself with other obstacles that might get in your way. One of the biggest retailers one the planet during Black Friday just so happens to be Best Buy, who are a regular spot for electronic junkies to stand in line for hours for in order to get the best stuff. As I mentioned above, though, I want to prepare you for what to expect is to come. That's why I'm providing you 10 items that you'll want to keep an eye out for and mark off your list this year, because these are 10 items that will see a price decrease during Best Buy's Black Friday in 2014, in order of the least amount to the greatest amount of savings. Don't say I never did anything for you.
10. Keurig Single-Serve Brewer – $99.99 ($20 Savings)
Rather than spend all that money at Starbucks or some other coffee shop every single day, why not go ahead and get yourself your very own home brewing system? Brewing up single-serve coffee, tea, and cocoa in three different sizes, the 48-oz water reservoir allows youth make multiple cups before having to refill it with a 12-oz pack of the supplied cups of roasted options.
9. Lenovo IdeaPad S210 Touch-Screen Laptop – $279 ($20 Savings)
Much like a tablet would, the Lenovo IdeaPad S210 gives users the opportunity to use the touch-screen capability in order to get their work done, making a normal computer look like dead technology. With a 10-point touch-screen that us backed by the same processors used in normal laptops, the device has long battery life and an award-winning keyboard that delivers the capabilities of a laptop at the convenience of a tablet.
8. LG 47-Inch 1080p LED TV – $469 ($30 Savings)
If you're looking for TVs this holiday season, this is the first of many that Best Buy will be offering—although it's not at the price many would expect or hope for. With just $30 anticipated savings, the 47-inch LED TV will be a nice addition to any household or dorm room, but won't exactly be the most efficient when it comes to the price in comparison to others. It's bright and slim—which is what users want in an LED TV—but I would suggest looking at other options first.
7. Samsung Galaxy Note 10″, 16GB Tablet – $399.99 ($50 Savings)
For anyone who might be looking for an alternative to a the bulkiness and weight of a laptop, go ahead and take a look at the hip new trend in business—tablets. Everyone from CEOs to head coaches in the NFL are using these things to help deliver messages efficiently and clearly. It's sleek and vivid, and the pen allows users to get things done like never before—especially when compared to a normal computer.
6. LG 42-Inch 1080p Smart LED TV – $519 ($80 Savings)
Much like the aforementioned 47-inch variety, this 42-inch LG LED TV will be a nice addition to any room of your choice, but at a bit more savings than the first one I mentioned. Marked down by $80, it's a deal worth considering—even if you are losing a few, diagonal inches. What you lose in size, though, users make up for with the Smart capability, allowing them to get online with applications like Netflix and search tools already built-in.
5. Samsung 40-Inch Smart LED TV – $399 ($100 Savings)
Another great TV, but with more savings, it really comes down to preference of brands and price at this points. Yet another model that brings the size in just a little bit, this 40-inch Samsung Smart LED TV is a good option for a spare room or as a first TV for the kid in the house. As someone who has this exact model in his bedroom, I would recommend it to anyone who is serious about buying a new TV—especially because of the capabilities of this Smart model.
4. Samsung 51-Inch Plasma HDTV – $529 ($120 Savings)
The first, and only, plasma TV on this list, this Samsung 51-inch model also happens to be the first one that would really be an ideal fit as the main TV in a household. While some may be wary because of the word "plasma" in it, I have a lot of friends who swear by that type of make, with any concerns from original models being flushed out with more research and technology. It displays rich, vibrant colors, and helps eliminate blur, so this is a great option at a great price.
3. Samsung 50-Inch 1080p LED TV – $649 ($150 Savings)
Like the other Smart model that I showed you, this Samsung 50-inch LED TV gives users everything they want access to right at their fingertips. Perfectly sized for a living room for home entertainment, this TV might win my "Go For It Award," handed out to the best option on this list. It's not obnoxiously sized—at an ideal 50-inches—and has everything that provides a great, viewing experience.
2. Sharp AQUOS 60-Inch 1080p Smart LED TV – $999 ($200 Savings)
If you're looking for something a lot bigger than the previous option that offered 50-inches, this Sharp AQUOS 60-incher may be the way to go. With the same quality thanks to the sharpness and Smart option for those who love to browse thousands of titles on various applications, there isn't a single thing a user will miss thanks to the extra-wide screen and pristine picture. There are some TVs out there at this size that are double or triple the price, so saving $200 is a bonus worth taking advantage of, too.
1. Samsung 60-Inch Plasma HDTV – $749 ($200 Savings)
Again, this really comes down to personal preference—determining if one wants the plasma option or the standard, LED flat-screen. Much like the previous model, this one sits at 6-inches, meaning it will be the go-to television set in your household. At the low price of $749, though, it may just be the better option—especially if you're not concerned with the Smart capabilities that others listed have built-in. If $999 for a 60-inch screen is great, $250 off of that is fantastic, so I'd suggest going with this model if money is the lone factor.
Photo by Sandy Huffaker/Getty Images