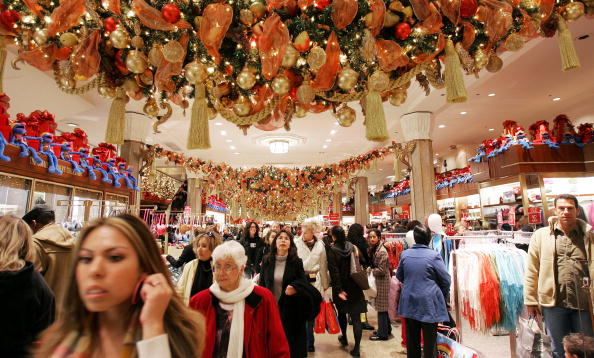 Many of us anticipate that fact that we can save money with before Christmas sales, but what's sometimes even bigger are the after Christmas sales. Making it through the holidays is big time, but it's not the end of the shopping. Once Christmas is said and done, and it's December 26, it's time to start your after Christmas sales shopping, and sometimes that's the even bigger deal catcher. You see, many stores know that there are those who have received gift cards for the holiday and those who have it in their heads to go out and purchase things like Christmas décor now that it's on sale and Valentine's Day is being rolled out.
Retailers know you're going to shop to return the horrible gifts Great Aunt June bought and exchange the ill-fitting items purchased by other loved ones. They want you in the store for their after Christmas sales so that you spend even more than you wanted to spend, and so that you are able to help them boost their sales for the end of the year. That's why we have to caution our favorite shoppers that the after Christmas sales are sometimes the ones to look out for depending on what you want; we don't want you missing these amazing sales.
Kohls' After Christmas Sales
It seems that almost everyone loves to shop Kohls, and that's okay. They have some serious after Christmas sales to consider, and that means getting your shop on. These sales include, every single year, anywhere from 40% to 60% off everything from outerwear, jewelry, shoes and sleepwear. Additionally, the store also loves to discount their home goods and Christmas décor.
Walmart's After Christmas Sales
You won't find the big amazing toy sales you want here after Christmas so much as you will find all those already low-price Christmas décor items to use next year on sale for as much as 90% off. The longer you wait to shop after Christmas, the lower the prices get. However, you cannot wait too long or someone else is going to come in and buy it all, leaving you with nothing to show for your after Christmas sales shopping next year.
Target's After Christmas Sales
What we love about the Target after Christmas sale is that there is usually a Starbucks in every Target, and it's the last week you will be able to enjoy the gorgeous holiday flavors that are made available this time of year. Additionally, you'll also find  50% off all holiday décor and everything from women's and children's apparel to home décor. Now is the time to use gift cards and re-decorate your home in time for the new year.
Lowe's After Christmas Sale
If you are like me, you want to purchase those big, expensive holiday décor items for nothing. It seems worth it to spend half the money on something large and gorgeous, but not the full price. Lowe's likes to begin marking down their holiday décor for the house and yard by as much as 50% the day after Christmas, and they continue to mark those things down even lower as the week goes on. Hurry, though, or you will miss the good sales.
Amazon's After Christmas Sales
Every single year the hit online retailer offers huge sales throughout the last week of the year. As soon as Christmas ends and your Elf on the Shelf heads back to the north pole for the winter, you get to shop for discounts that are as much as 50% or more on the things that the retailer wants out of their stock and warehouse before the new year hits and the new items hit the shelves. If you love apparel, accessories, clothing, toys or electronics, now is the time to shop Amazon for deals between 50-70% off.
Old Navy's After Christmas Sales
Old Navy is already cheap and oh-so-affordable, and it really makes shoppers happy when sales begin the day after Christmas. Typically, the entire store is up to 75% off both in person and online, and that makes for some happy shoppers. The store opens by 7 am for its day after Christmas sales, and that means you need to get there early. Parents tend to fill up the store with their carts and their checkbooks so that they can pick up quality clothing for their kids at cheap prices to get them through the rest of winter without any issues.
Macy's After Christmas Sales
Macy's is another huge retailer that offers big sales the day after Christmas. These sales typically include everything from apparel and accessories to home décor and coats. It's not uncommon to find huge luggage sets on sale this time of the year, and everyone loves to find that they offer big name, big ticket kitchen items at discounted prices on this particular day. The store always opens around 7 am the day after the holiday, so be sure to shop early and shop smart.
Toys R Us After Christmas Sales
Every year the store opens at the crack of dawn the day after Christmas so that shoppers can make like Black Friday and get to shopping. While the store has yet to announce what they plan on putting up for sale the day after Christmas for 2015, it's only a matter of time. Often, there are huge deals such as $100 a popular game system or a buy one, get one on things like games and other electronics. This is a store not known for offering many sales so when you find one, it's time to shop.
JC Penney's After Christmas Sales
The huge mall retailer is another big one when it comes to after Christmas sales. This is a store in which you will find already low prices, but they tend to drop even lower when you add in the fact that after the New Year they want to roll out all the old to make room for the new. This means, year after year, that the store offers anywhere from 30% to 70% off just about everything in the store to those who begin their after Christmas shopping early.
Pottery Barn's After Christmas Sales
We know that the store will open at 7 am the day after Christmas, but we don't know yet what the store will offer for sale during their after Christmas sale. We know that the holiday décor offered by the retail giant will go on sale for at least 30% off, and there are always other sales going on this day, too. Be prepared, because prices here are usually always high, and this is just one of a handful of times throughout the year that the store will drop prices on many of its items to make shoppers happy as they go about their business.
One Tip for Shopping the Day after Christmas Sales
Be sure to look through the sales ads as they are released closer to Christmas so that you can make your shopping trip all it needs to be. You'll want to make a list of things you want the most and compare them to where you need to go and what time stores open if you want to guarantee that you have a chance at getting any of these items. Going at noon is usually a good indicator that the quantities are gone and the sizes have been picked through during day after Christmas sales.
Photo by Getty Images