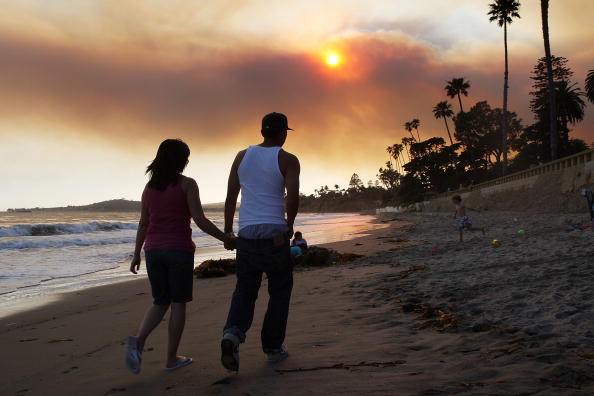 "I want another baby, but my husband is not on board," was the conversation I had with an acquaintance recently at a gathering. She and her husband already have two kids, and she was ready for a third. However, she confided in me that her husband was absolutely against having another baby and that she wasn't sure what to do. To me, it seemed pretty obvious; let it go. Attempting to talk someone into doing something that they are not willing to do on a level this serious is not something that seems like a good idea in any sense. Pressuring a man to have another baby seems a lot like pressuring him to get married when he's not ready. If he doesn't want it, he doesn't want it. If your husband said to you, "I want another baby," and you did not, how would you feel about his pressuring you into getting pregnant?
There are so many things to consider in a marriage; and babies are certainly among the most important topics of discussion. It's very likely that the two of you were on the same page prior to getting married, "I want one baby, and then I want another baby a few years later," and that was probably something you agreed on. Or perhaps your conversation went like this, "I want one baby and then I absolutely will never say to you that I want another baby because one is just fine with me," and you both agreed.
Of course, feelings change. It happens; and there is nothing wrong with that. But what happens to your marriage and your family when you have one baby and says, "Honey, I want another baby," and he says he's not interested? It's not a fun realization when someone wants another baby and their spouse does not; whether it's you or it's him. My husband and I have four beautiful children, and it was easy making those decisions all the way around. Three years into our marriage he stated that he wanted to go ahead and start a family. I wasn't ready at that point, so we waited until I was (I was a month later, so it might not count). When I said to him that I want another baby when our first baby was 18 months old, he was over the moon with excitement. Unfortunately, we had two miscarriages before our second daughter was born, but she's here and she's 4.5 and she is a glorious mess of stubborn strong will and sassiness and sweetness that just works for her.
When I said to my husband that I want another baby – just one more – because three seemed like the perfect number, he was on board. That's when we got pregnant and found out five months later than we were expecting twins and that was not part of the plan; but it is part of our reality. And just to clarify (mom, if you're reading this), no one will ever hear me say that I want another baby. That bonus fourth was just perfect, but five is not in the cards for us!
My husband and I were on the same page all the way around, but it's not like that in all marriages. So what do you do when you want to have another baby and your husband says, "I don't," in response?
Talk About It
"I want another baby, you don't, and I want to talk about it," is all you have to say. You have every right to want to know why your husband feels the way that he does. Before you stop and get upset, hurt or angry; talk about it. Ask him why. You might be surprised by his answer. Perhaps he doesn't feel that he can love another baby the way he loves the one(s) you have now. Perhaps he worries about finances, work, the future and he doesn't want to add to his worries. Perhaps he's afraid that with one already very perfect child so many things could go wrong the second time. Perhaps there is a history of twins in the family and he doesn't want to go there. Perhaps you had a rough first pregnancy, it scared him, and he's not willing to ever feel that way again. You won't know until you ask.
Stop the Pressure
There is no sense in trying to talk your spouse into having another baby if he does not want one. "I want another baby," is not justification to take matters into your own hands. It is not your job to make decisions on behalf of your spouse, and it's not your job to pressure him in any way. Instead, accept his decision and let it go. Maybe he will change his mind at some point. There is no harm in bringing it up every so often to see if he has; just ask. But don't pressure him, because it's not good for your marriage. You wouldn't want him pressuring you into doing something you don't want to do, so respect his decisions.
Accept his Answer
When the acquaintance mentioned above told me, "I want another baby, but my husband doesn't," I thought she was just making a statement. I don't know her all that well, I see her only on occasion at group events, and we aren't close. However, I was shocked when she then told me she'd decided to stop taking her birth control and let nature take its course. As someone who does not believe in 'tricking' someone else into something like parenting, I was horrified.
Ladies, don't do it. Do not trick a man into having a baby with you if he doesn't want to. Don't do it to get him to marry you. Don't do it to get him to commit to you. Don't do it because you think that he will love the baby and want it when he's had a chance to calm down. Here's the deal; accidents happen and you deal with them. But when you deliberately decide to take matters into your own hands when you decide, "I want another baby even if he doesn't," and get pregnant, it's deceptive. If he believes that you are using birth control and you stop, it's a lie and it's not all right.
Accept his answer and move on. Maybe, one day, he will change his mind. But the decision to become a parent is something that couples need to make together. It's something all parties must be in agreement on, and it's something that you have to choose to do together. Turning someone into a parent because of a selfish I want another baby thought is not acceptable, and it could irreparably damage your relationship.
In short, if you say, "I want another baby," and he says, "I don't," the only thing you can do is talk about it, listen to his reasons and learn to accept it.
Photo by Getty Images