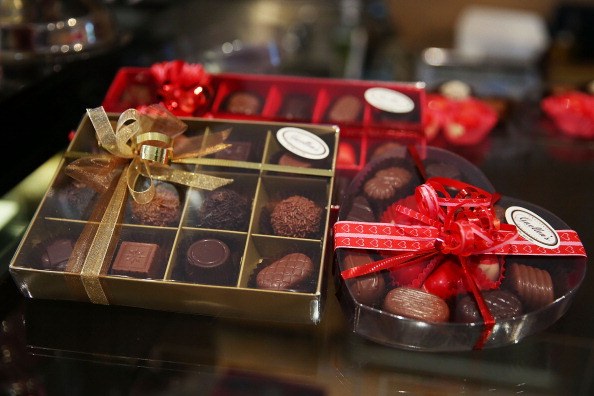 Valentine's Day is such a Hallmark holiday. It's something we all love to hate, but we don't dare not celebrate the holiday (and kudos to those who do). While I like the fact that my husband treats every day like Valentine's Day, it's something that we still celebrate. We don't do a big dinner out anymore since we have kids and we like to focus on them for the day. A lot of people feel the same way we do; the holiday is more for the kids. Others feel it's a very romantic day and love to celebrate in a romantic and loving manner. We don't care; we just love that you have a way to spend the day that makes you feel good about yourself. Whether it's with the kids, your grandmother, your spouse or your girlfriends, we want to help you find a way to spend this holiday enjoying yourself and the person (people) you love most that doesn't cost a fortune or cause you to blow that careful budget. Read on for 10 ways to spend Valentine's Day no matter who you're with.
Movie Day
If you don't have kids – or at least you don't have your kids today thanks to your parents or their aunts and uncles – spend the day in bed watching movie after movie. It's a fun way to spend the entire day just relaxing and enjoying time with one another. Make popcorn, drink wine, watch funny movies, romantic movies or just binge watch whatever you new favorite obsession is on Netflix all day long. You'll feel so lazy, but so relaxed at the end of the day. The key here is to spend the entire day cuddled together for the most romance.
Sightseeing
Pick a town that's nearby – or within a few hours – you've never been to and go sightseeing. Walk around downtown, along the water, grab a bottle of champagne and have a picnic on the beach or along the edge of a lake. Check out the little shops, stop at a hole-in-the-wall café for breakfast or lunch or dinner and just enjoy taking in something new together for the first time. This is always a romantic way to spend your time.
Cooking
There are few things as romantic as cooking together. Pour some wine, turn on some soft music, stop cooking and dance when you get the chance. Make something decadent you might not ordinarily make on a random evening. Make surf and turf, dip strawberries in chocolate and dim the lights. Light a few candles and really sent the ambience of the room so that it's as romantic as possible.
Go Out to Eat
If you want to save a few dollars, download coupons and check for deals online. We don't love going out on Valentine's Day since it's so packed and busy everywhere you go, but if you can't stop yourself, at least try and save yourself a few dollars. Be warned, however, that most nicer restaurants will choose a prix fixe menu on this holiday – especially being that it's on a Saturday evening this year – and you might not get what you want, and coupons may or may not be valid on this evening.
Go to an Amusement Park
If you have kids, or even if you don't, use your annual passes to go to an amusement park if you have them. It's a great way to spend time with the kids and your spouse, to have fun and make some memories while you're out and about, and you will be very thankful for that time spent together making memories when it's all said and done.
Bake Cookies
This is a fun one to do with the kids or your spouse; or all of you. Spend the day baking cookies for each other and decorating them in a fun way. You can also make cookies for your friends, your family members and everyone that you love and you can deliver them to them in person so you can spread the love on this sweet holiday to those who might not have anyone to share it with otherwise.
Have a Picnic
It's really inexpensive to head to the store and pick up your favorite gourmet sandwiches and cheeses, some wine and crackers and a blanket that you can sit on. Now get in the car and drive until you find a beautiful park with a great view of the sunset or the ocean, with an even better view of the sunset. Now sit, eat, drink and enjoy one another's company. It's cheesy (haha) but it's worth it to spend some quality time together uninterrupted.
Volunteer
Nothing is going to make you feel better on this day than to spend some time making others feel good on this day. Do you know how many people in nursing homes no longer have anyone with whom they can spend this day of love? Why not get your spouse and kids and head to the nearest nursing home to volunteer for a few hours reading, visiting or playing games with those who are lonely on such a special day. It'll make you all feel good, and you'll all certainly learn to appreciate one another in your lives.
At Home Date Night
Once the kids go to bed, go ahead and have date night at home. Talk about saving on a baby sitter. Cook dinner together, watch a movie, drink some wine, make some popcorn, and sit by the fireplace and just talk. Do whatever you want since the kids are in bed and you have all night to yourselves to enjoy the company that you chose so long ago.
Have a Fire
If you have a fire pit, use it. Pour something good to drink and make some s'mores by the fire. If you don't have one, you can buy one for next to nothing at your local home improvement store that you can sit on the deck or on the grass and enjoy while the moon and the stars are shining above. There's nothing quite as romantic as curling up outside with a blanket and a warm fire under the stars.
Photo by Brendon Thorne/Getty Images