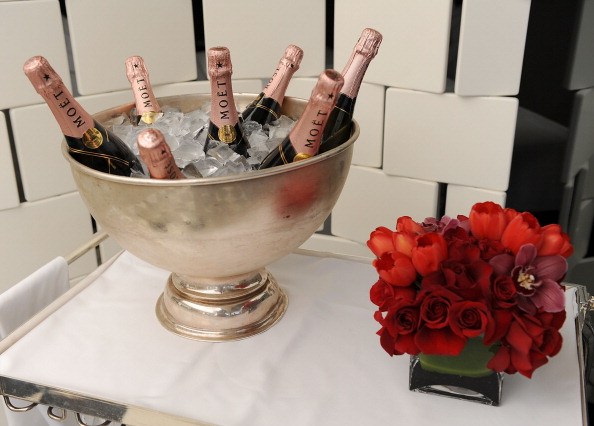 It's the holiday for lovers, but Valentine's Day often feels like a day filled with peer pressure to spend too much money, whether you have the money to spend or you really don't. This Hallmark holiday is one that many people celebrate and many do not. Some of us prefer to celebrate our love all year rather than just one specific day, and we like to do that with our kids to make the day more special. Whether you've been together a decade or a month, we have a ton of great ideas that will allow you to celebrate your love for one another without breaking the bank. We have 10 sweet and romantic date night ideas for couples that won't cost much and will provide you with a few hours of romantic time spent together celebrating your love. You can thank us later.
Go to Drink Tastings
Affordable date night ideas for Valentine's Day are often difficult to find since so many restaurants change their menu and offer prix fixe menu options that you have to buy even if you don't particularly care for what is offered. So instead of doing this, go to your favorite romantic restaurant for drinks only. Get dressed up, go to the bar, sit down and enjoy a few cocktails of your choice. It's very romantic and a lot of fun.
Go to Dessert Tastings
If you're not a drinker – or you are but you also like dessert – go out for your favorite desserts at your favorite restaurants. You don't even have to stop at just one; go to several. The more the merrier when dessert is concerned. Go find something delicious and decadent and wonderful to eat, and you will find that you enjoy this kind of date night a lot.
Cook Together
Sometimes it's better to stay in and cook something wonderful together. Get the kids off to grandma's for the night and hit up the store for your favorite ingredients. The key here is to splurge a bit on things you don't normally cook but would treat yourself to at a restaurant. Think fresh shrimp and seafood, fresh fish, filet mignon or something else. Don't forget a really nice bottle of wine. You might be surprised just how romantic it is to get in the kitchen together. After 10 years of marriage and a long list of beautiful vacations, amazing restaurant dinners and all you could imagine, some of my favorite nights with my husband are spent creating decadent meals together in our own kitchen.
Have a Movie Night
There is nothing more affordable and romantic than a night on the couch with your favorite warm blanket, some great movies from the RedBox and the person you love. This is going to give you a way to spend some quality time together doing something you don't often get to do. The best part is that it's very affordable.
Have a Picnic Under the Stars
Splurge on an amazing to go meal from your favorite restaurant, a good bottle of wine and a comfortable blanket and go outside. Head to the beach, the lake or the park, or just sit in your yard, and enjoy your decadent tastings on the blanket under the stars. I assure you that few things in life feel as romantic and satisfying as this.
Find a Place to go Dancing
Dancing is a way to communicate with one another without speaking. The movement of your bodies is very suggestive and very romantic. There's no reason you can't enjoy some time like this on Valentine's Day. You should, however, avoid 'da club' as it's referred. This is not romantic. Romantic is somewhere you can dance in each other's arms without Lil John telling you to Get Low.
Find a Free Concert
They are everywhere, particularly in larger cities. These concerts are often held in parks and town squares. Even though the music might not be something you are into, you will still have an amazing time doing something like this. Go ahead and find a free concert at which you can sit, dine with a picnic and dance if you choose to do so.
Get a Couple's Massage
If you're looking to do something really magical on Valentine's go for a couples massage. This is a great way to connect with one another while relaxing. If you use sites such as Groupon and LivingSocial, you can buy these for half the price on a regular basis, so you can make it into an affordable date night or date day with your loved one on the most commercially romantic day of the year. This is something you might find you love and want to do more often.
Get Away for the Night
Do you have airline points you can use to book a hotel free of charge? Do you have a hotel membership that has a lot of points, enough to greatly reduce the amount you'd pay for a room or make it free all together? Do you have a credit card with reward points on it? If you do, you will enjoy very much the idea of getting away for the night. When you don't have to put anything out for a room, you will really appreciate the novelty of being able to stay in that room, head down to the hot tub, order room service and spend some quality time together without the distractions of everyday life and the home you share.
Have an at Home Spa Day
You can create your own spa day at home by purchasing some great lotions, essential oils and other accessories. Send the kids away to their grandparents and then figure out who gets to start the spa services. You can give each other massages, relax in a hot tub with a glass of wine and nothing to do but enjoy the company and your love for one another. This is a sweet way to spend some time together relaxing and pampering yourselves without the expense of going out to the spa.
Photo by Michael Kovac/Getty Images for L'Oreal Paris