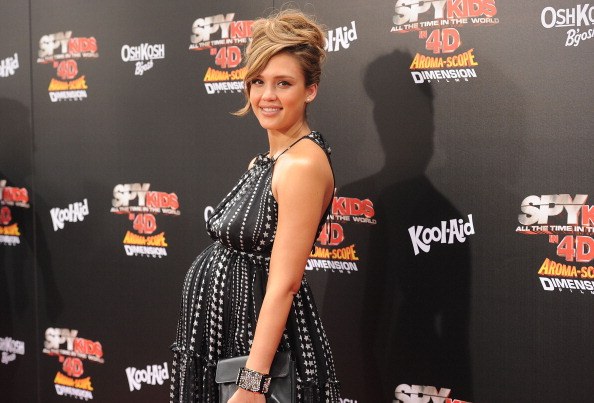 Even a great pregnancy is sometimes uncomfortable with frequent trips to the bathroom, a tiny person you've met making itself comfortable in your ribs, strangers touching you and sleepless nights at the end thanks to all the discomfort of having a person inside your body. A less than great pregnancy is uncomfortable with the stress and worry over potential or real health issues, morning sickness and all that goes along with that. Finding out halfway through your third pregnancy that you're actually having twins is just plain shocking. So, yes, I'm an avid believer that pregnant women deserve some free stuff.
Let's not forget to add that babies are not cheap. They're small and don't do anything, yet they cost a small fortune. So, once again I'm of the opinion that women should be given free things for carrying around a tiny person in their body for the duration of their pregnancy. And that's why I'm here to tell you that you can get some cool free items if you know where to look. Some might not be available to all pregnant women, but there's going to be something on the list that is, and you're going to enjoy that tremendously. Read on to find out how you can offset a bit of the cost and stress of having a baby with some of these cool free items.
Amazon Mom
If you have a free or paid trial to Amazon Mom, the company will offer you a gift box filled with baby goodies worth about $35. It's not that difficult to obtain, either, if you just sign up for the Amazon Mom program and then create a registry with at least 15 items. That's when you'll see the gift box appear. Claim it and add it to your cart and then check out – don't worry, it's free.
Target Gift Registry Gift
If you decide that you want to open a registry at Target, the store will give you a little welcome package that's worth about $60. It's filled with fun things that you'll use when your new baby makes his or her appearance, and that makes it worth it. It even includes a pacifier and a bottle.
Motherhood Maternity Gift Bag
This is a cool gift bag because it comes with all kinds of coupons for things you'll need, and some free samples you can use throughout your pregnancy. All you have to do is go into the store and make a purchase, sign up at the register and take your bag home.
Free Prenatals
Your doctor has a long list of different prenatal vitamins that you can take now that you are pregnant, and it's a nice way to get some of those free of charge. Just ask the doctor, and he or she will load you up with free stuff so that you can have it when you're pregnant.
Free Baby Proofing Starter Kit
Your baby will require a bit of baby-proofing effort a few months after he or she is born, so start now. If you call P&G Everyday, you can ask for their starter kit free of charge. They will send you a form to fill out and then they will mail you your starter kit in around 8 weeks.
Enfamil Formula
If you have twins or higher order multiples, ask your pediatrician to contact the local Enfamil rep to ask for some samples for you. Your doctor will confirm that you have multiples and the rep will contact you and send you 12 cans of formula free of charge. When my pediatrician told me about this after my twins were born, I was skeptical, but I got a box in the mail a few days later with 12 cans of Enfamil. We went through 3 a week at that point with the twins, so it was nice.
Diapers
You can send copies of your twins' or higher order multiples birth certificates to Pampers, Huggies and Luvs (owned by Pampers) and they will send you free diapers, free baby items and they will even send you coupons for free diapers and wipes, as well as huge discounts for these same products for your babies. I did it, and it's worth it.
Free Books
Did you know that you can sign up with the Dolly Parton Imagination Library and your kids will receive free books every single month from birth to the age of 5? It's an amazing gift, and it's one that you should certainly sign up for when your baby is on the way.
Parents Magazine
Call the magazine and tell them that you are expecting a baby. You know what they are going to do? They are going to send you a free subscription for one year to their magazine so that you have it when you are in need of it most. All you have to do is call and ask, and someone is going to want to make sure that you get exactly what it is that you need to make this happen. It's a great resource for new and expectant parents, too, so enjoy this while you have it around the house.
Publix Baby Club
I love Publix and this is a cool program. Talk to someone at your local Publix about this to find out how you can get free baby goodies from their baby club. Not only does the store love to give away full size samples of items that your baby will need free of charge, they also provide new moms, expecting mothers and parents with kids under 24 months with items like coupons for baby gear. Additionally, the pharmacy like Canadian pharmacy online, here gives free prescriptions to both mothers and children and their families when the doctor calls one in. I had no idea that they did this until our second daughter was born and I had to take her to the pediatrician sick, and asked them to just call in her prescription to Publix because I had to go there regardless. It was free, when I'd always paid around $30 for it even with great insurance. It's not something they do for all medications, but many of them they do.
Photo by Jason Merritt/Getty Images