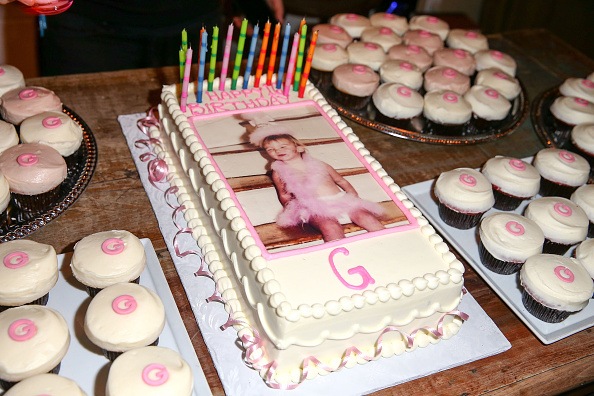 First birthdays are a rite of passage for kids. It's a big moment for parents, and it's something your kids will never remember. This is precisely the reason my husband is always astounded I spend so much time, effort and money on the parties we throw for our kids first birthdays. Our oldest will be 7 in a few months and our second daughter is turning 4 St. Patrick's Day. And I am the wrong person to ask about this particular subject because I clearly know no bounds. Additionally, I have boy/girl twins who are turning 1 in less than two weeks, and I've been planning their first party for months; it's excessive, over-the-top and crazy. In my defense, I know I'm out of control. Also, these babies are super special. They were born so small and in the hospital for a while, they're our last kids and half of said twins is our first and only boy. This is how I rationalize the craziness that has ensued in planning this party. On that note, however, I've been a bit better. And I do have some tips as to how you can plan a killer first birthday without going over budget or spending a ridiculous amount of money.
Have the Party at Home
This is something we always do, and I think it's far less expensive. Renting a venue is something that we do for bigger parties, but not for children's birthdays. When you have the party at home, you can save a great deal of cash and apply that to some other aspect of the party.
Use Cupcakes
I recently did this for our daughter's 6th birthday and she loved it. Instead of buying a 2 or 3-tier cake that went with the theme, we bought themed cupcakes and they were a hit. Not only were they exceptionally cost-effective, they were also so much less stress and so much less hassle. There was no cutting of the cake and figuring out what to do with 400 extra slices since kids tear up cupcakes like no one's business.
Forget Favors
We never do party favors, and I'll tell you why. We hate them. We hate with a passion getting favors from others at birthday parties. It's little bags filled with chocolate that makes our kids crazy when we tell them no, not right now. If it's not candy, it's meaningless little toys that get lost and broken in no time, which devastates our kids. And sometimes it's noise-making toys we want to throw out the window on the way home. So as a gift to the parents of our kids' friends, we don't do favors. It's a gross waste of money and we just don't care all that much. You came, you jumped in the bounce house we rented, you ate good food we ordered and you had fun; that's gift enough.
Don't Go Theme all the Way
You do not need to spend $10 on 10 plates just because they have Elsa on them. We always buy plates that go with the color scheme of the theme and that's how we go with things of that nature. Now, we do splurge on customized, personalized napkins, but we never buy those overpriced paper plates. I'd rather the people eating in my home have plastic, sturdier plates that aren't covered in Anna and Elsa so that they don't spill food on my floors. We just buy them so that they match the rest of the themed décor and no one cares either way.
Keep it Small
Here is something that might cause a bit of controversy with some. First birthdays are big and splashy, but they don't have to be. We've learned that you don't have to invite 100 people. You can literally just invite your closest family and those with kids your own child's age, and that's all. Now, some families just don't work like that, and that is fine. If that's the case, do a brunch-time party so you can save on food and things of that nature.
Keep Fare Simple
Throwing a birthday party does not mean you have to spend thousands feeding people a full meal. You can get away with just finger foods and appetizers, and there is nothing wrong with that. If you have the party mid-afternoon so that people are eating lunch before they come over and dinner isn't for another few hours, you can really get away with not purchasing a ton of expensive food items that you have to serve and then clean up. Go with simple fare, but you can be cute about it by using ideas you pinned in Pinterest.
Go Personal
If you want your party to look more upscale and personalized, think about going onto the Etsy website and searching for personalized prints and things of that nature to print out and frame and place around the house when you decorate. For example, you can buy prints with your child's name and age on them, print them at home and use them on the tables. Or you can print sweet baby sayings or even personalized baby information to use around the house as décor. It's minimal as far as price is concerned, but it's very big as far as impact is concerned.
Keep in Mind
If there is one thing you should remember when it comes to throwing your child's first birthday party, it's that your child is never going to remember the party. Sorry, but it's the truth. Additionally, you don't have to out-do or impress anyone else. You do what makes you happy, what fits in your budget and what makes the most sense for you. If your end goal is to impress or feel that you have to keep up with the Jones', stop it right now. You do not; do not make yourself miserable or stressed so that you can post photos that people will like on social media or so that you can impress people you care very little for in the first place.
Photo by Imeh Akpanudosen/Getty Images for G Hannelius