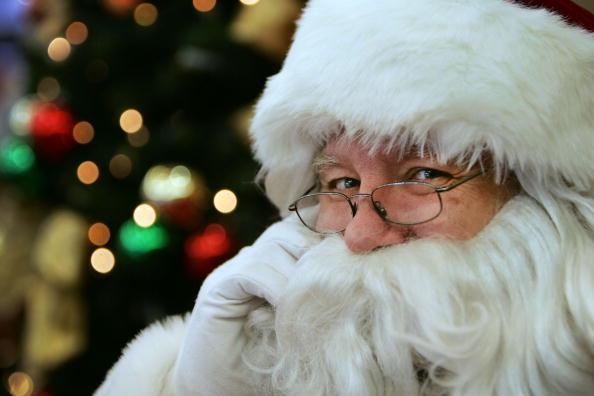 It's a concept a surprising number of parents worry about. Whether or not to lie to their kids about Santa or tell them the truth is not something you might ever consider doing when your kids are small; you might think most parents wait until their kids stop believing to stop lying about Santa, but many parents believe kids should not be lied to, even at an early age. However, it's not a bad thing to let your kids believe in Santa. They probably believe in the tooth fairy, shooting stars and any number of things that they cannot touch or even see in real life; but that's not a big deal. It might be lying, sure, but that doesn't mean it's a bad thing. The good news is that believing in things like Santa at a young age does not harm your kids, and it's a fun way to bring some spirit and excitement into the holidays. Remember when you were small and Christmas was so magical? It's probably lost a lot of that magical sparkle now that you're the adult fighting to find that last toy on your kids' list, and you wish you had that magic back in your heart.
Tradition is Important
Lying to your kids isn't the same thing as believing in a tradition. In fact, you might still have your older children going along with tradition and you probably talk about Santa as though he's real. Perhaps the older children know he's not, but the tradition of sitting on his lap, writing him a list and doing the same things year after year are just that; tradition. And tradition is very important to families. Your kids won't remember caring you lied about Santa; they're remember how much fun they had licking the spoon after making Santa's cookies and how much fun they have doing family things together.
Santa is Just One of So many Beliefs
Your kids are being lied to about a million things. The Elf on the Shelf, the tooth fairy, Harry Potter, the characters at Disney World and Universal Studios; unless you're going to tell your toddler that Minnie and Mickey and Elsa and Anna aren't real and break her little heart, you might want to keep the secret of Santa to yourself. They're going to learn eventually that this is not something real, and they'll be able to deal with is efficiently. You'll be surprised.
It's Magical
Santa is about more than just a man bringing presents. He's about believing in wonderful things and bringing joy to children all over the world. Why take that away at an early age? The magic of believing in something special is very important to children. It's their imagination at work. They're not going to be mad at you for keeping this secret; but they will likely be mad at you for taking it from them.
Photo by Lisa Maree Williams/Getty Images