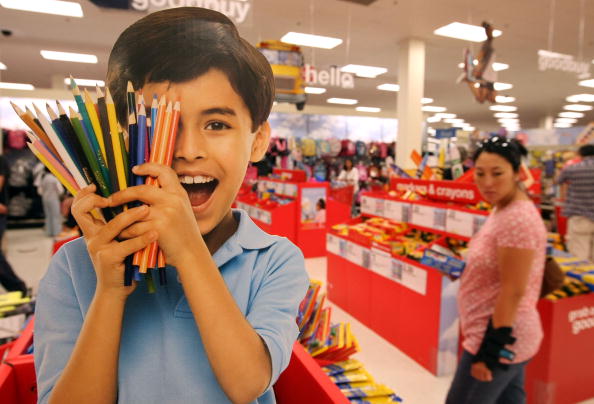 The beginning of the school year is the most exciting time of the year – for parents. Three months of kids being home all day, every day is about all it takes to make us feel as if we are going to lose our minds. Sure, we miss them throughout the school year, and we look forward to mornings sleeping in, leisurely days by the pool and summer fun for the entire family. And then the kids wake up on the first day of summer even earlier than they do during the school year – and without any prompting from you – (really, kids? Really?), you spend half an hour chasing down the 'right' swimsuits for everyone, spraying them down with sunscreen and then after five minutes in the pool they are bored and ready to go inside for lunch and all that family fun means you're still working on getting beach sand out of everything you own.
Summer is so overrated. But back-to-school is awesome. The only problem lies in the fact that kids aren't always as excited about it as their parents. Two of my four are in school. We have a little one in second grade and one in VPK. Our second-grader has looked forward to school her entire life. Almost from the time she could speak she began asking us when she could go to school. She loves it. She loves school and everything about it. Our VPK daughter, however, was very nonchalant in telling us that school is not for her and she's not going.
She's going. Sure, day one was ugly, but it's gotten better and now she loves it. She looks forward to it every day and she's mad when she wakes up on Saturday and there is no school (of course, this could be because we now have to be at the football field bright and early so her older sister can cheer, and it's hot and miserable and we all kind of hate it). It took a lot of doing on our part to get this one excited about going to school this year, and I'm already preparing for next year. She's a kid that does not care for change. Once she gets used to it, she's great; but it's that initial change that she's not interested in, and it makes life a bit complicated. I'm not trying to say we 'won' this one, because we didn't. But our very stubborn, very independent 4-year-old has been back in school for four weeks this week, and she's managed to learn to love it. We like to think we had something to do with that getting her all excited about school, but we are probably wrong. Maybe I'll do better with your kids and my methods.
Talk it up
We had to talk up VPK for weeks before our daughter went to school. We told her all the fun things that would come with being a 'big' kid and all that she'd get to do. She wasn't having any of it at first, but she slowly began asking questions and feigning a tiny bit of interest in things like finding treasures for her letter bag every week. We talked it up, she got a little bit excited about it and now she's having the time of her life in class. Really, make school sound like the most exciting thing that will ever happen to your kid.
Let them see the class and meet the friends
If there is one thing that I believe should be mandatory, it's back-to-school orientation. I cannot figure out why so many families miss this! It's the perfect opportunity for you to meet your little one's teacher, for your children to meet their teachers, see their classrooms and see what to expect on the first day of school. We loved it for our 4-year-old this year because she was able to see her classroom, see her friends that are in her class and get to see the playground and cool toys in her room. That made her a bit more excited than she was when we first began discussing her going to school.
Go shopping
I love shopping, so maybe this is just me. However, our girls love to back-to-school shop. They love to pick out their new outfits and their new shoes and their new backpacks. This year, we took our 4-year-old into Pottery Barn Kids with us and let her choose her own lunch box and back pack to take to school just like her big sister. Even though she doesn't need a back pack, it made her feel like a big kid and it made her look forward to going to school. We let them choose their own design, their own coloring and their own personalization, and they love that. It makes them feel very mature and 'cool' and it makes them excited to get to carry their own creations around to show their friends.
Let them choose their stuff
This is the most important; when you shop for their back-to-school clothes, shoes and supplies, let them do the choosing and the planning. Our daughter wasn't interested at first, but now she takes her time every evening to choose her outfit for the next day, all because her teacher told her that she looked so pretty on the first day of school. Now she wants to look pretty all the time (which is big considering she hates having her hair brushed and she only likes to wear leggings and one particular tee shirt on a regular basis because they are her favorites). She feels a sense of accomplishment and pride, and that makes her excited about every day.
Do something special on day one
Our tradition is as follows; we have a special breakfast on the first day of school and then we have a mini-photo shoot with these giant posters that I make and decorate every year with their names, personal stats and their favorites. This year, our 4-year-old became suddenly very excited about her first day of school when she realized she was getting her own poster and she got to choose all her own favorites (she even asked me if she could include her favorite motto which is from Nike, "Just do it," on her poster…and I have no idea how she knows about mottos, really). This tradition is one our older daughter adores, and it even has our younger daughter talking about what she's going to put on her poster on her first day of kindergarten.
Photo by Justin Sullivan/Getty Images