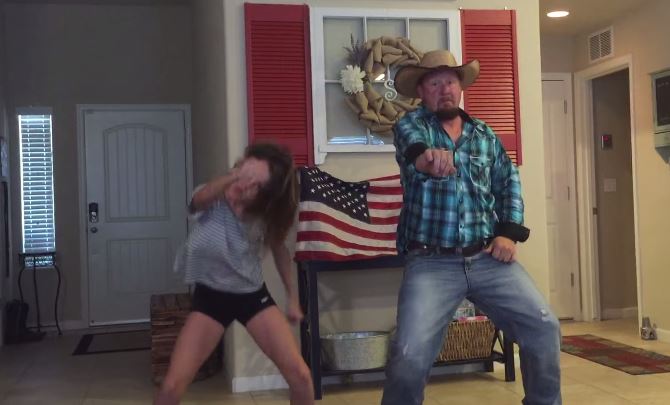 One of the best things all parents can do is goof around with their children. Of course, there have to be rules and guidelines for your kids, and you can't always be their best friend, but just as important as structure and discipline is having a sense of humor, being able to laugh and smile and have fun with your child. And that's exactly what this dad did with his daughter when the two of them had an epically adorable dance off against one another, which required them both to "whip and nae nae" to Silento's "Watch Me."
The greatest thing about this dance off video is that it's impossible to have a favorite part. Is it when the father arrives and essentially starts doing the Carlton dance? Is it when he and his daughter sync up and "whip and nae nae" together in perfect harmony? Or is it when the daughter heads off screen to turn off the camera, and the dad, still being recorded, doesn't stop dancing? Like I said, it's impossible to choose.
Also, this dad gets bonus points for rocking the cowboy hat and making it work throughout the entire video, especially since there's not a hint of country in this song. I don't know how many fathers out there could pull this off, but this dad make it look pretty darn easy.
Check out the adorable and hilarious video below, and comment to let us know what you thought of it. And if you were somehow able to decide, what was your favorite part?
[Photo via YouTube]