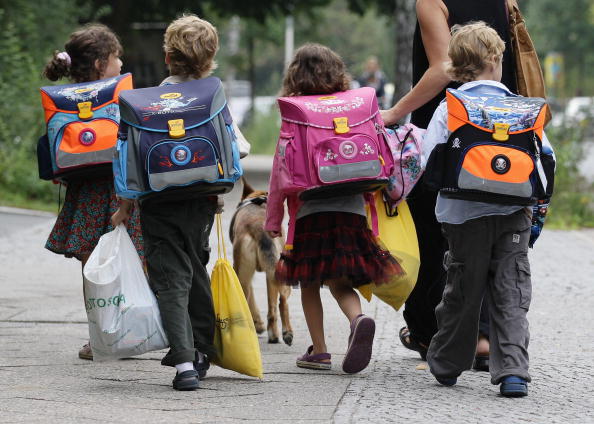 Depending where you live, your kids are either gearing up to go back to school after Labor Day, or they've been back in school for as many as three weeks now (mine!). What this means for moms and dads is that it's time to think about back-to-school fashion and shopping. You don't want your kids to be uncool because your fashion choices aren't good enough, but you don't want them to be inappropriate. Here are the essential back-to-school fashion rules parents need to know.
The Two-Inch Rule
There are dress codes at schools. If your child attends a school where uniforms are not necessary, you have a bigger challenge. The first back-to-school fashion rule you should know is that most schools abide by the two-inch rule. This means all tops and dresses much have sleeves that are at least 2-inches wide. And you will want to double check that with your school to ensure they don't have different requirements.
Finger Tip Rule
Another rule that pertains particularly to girls; shorts, skirts, and dresses should be long enough to be considered appropriate. Most schools require that the hemline of any bottom is at least fingertip length, but some schools do not allow anything above the knee. It doesn't hurt to check with your child's school.
Shoe Rules
It's official; schools now dictate the type of shoes our kids wear. Most schools do not allow children to wear shoes that do not have proper support around the back or open toes. This means your kids can say goodbye to flip flops and sandals and stick with tennis shoes, boots and ballet flats.
Quality Over Quantity
Kids are notoriously hard on their clothes. This means that they will destroy them, tear them up and dirty them up in no time. If you think shopping cheap is the answer, you're wrong. You'll want to outsmart your kid by buying quality items that will last longer, even if they're more expensive up front.
Let Your Kid have a Say
Kids should get to have a say in what they wear. You have all the purchase power, which means you get to veto anything offensive or inappropriate, but it is your kids' style. Let them shop with you so that you can help them choose outfits that are appropriate and that reflect their personalities. A lot of your child's ability to be unique comes from the ability to wear clothes he or she chooses.
(Photo by Andreas Rentz/Getty Images)