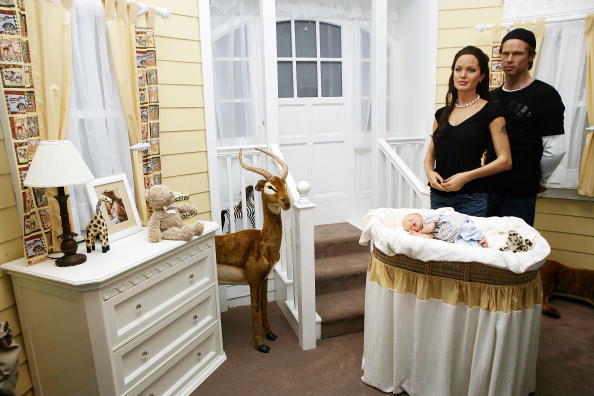 As the mother of three little girls (and one boy), I know all about girl names. I know that when you love a name for a girl and it just so happens to have the same first letter as your first born child's name, people automatically assume that you want all your kids to have names that begin with the same letter (even though it really is just a coincidence). I also know that some names seem unique at first, but that's what everyone pregnant with little girls at the same time thinks, so there will still be 5 little girls with the same name in kindergarten, even if you've never met another little girl with the same name as your newborn or soon-to-be newborn. Either way, names that begin with "M" are some of the most popular for little girls. If you want something unique and lovely, these five baby girl names are not going to make your list because they're the trendiest "M" names for little girls at the moment.
Maddox
Angelina Jolie started this off as a trendy name when she adopted a little boy and named him Maddox. Not satisfied to leave this name with the male gender, many new parents began to choose the name for their little girls and it's grown in popularity. It's now one of the most common unisex names in the country, but it's very likely that the name will be overtaken by girls before too much longer.
MacKenzie
It used to be a name that was more commonly heard as a surname, but it's increasing in popularity as a first name. Little girls are going by the name MacKenzie on a regular basis now, though you might hear them referred to as Kenzie more often than not. It's a popular nickname, and choosing this name might ensure that your little girl grows up being called "Kenzie," by her peers and even her teachers.
McKenna
What a lovely name. Anyone my age will not remember a McKenna growing up, but they will find out quickly that everyone has chosen this name as a first or middle for their own little girls in recent years. Less than a decade ago, people were shocked and impressed by the name McKenna, and now there are many in every class and all over the country.
Madison
It's not a newly popular name; it's been popular for a long while. However, it's become more popular than ever in recent years. Girls who are given the name Madison often go by Maddie for short. The name is so popular it even has its own spin-off in the name Addison.
Macy
Five years ago no one had the name Macy except the department store. Now it's every other little girl's name. There's nothing wrong with that; it's a lovely name. However, it's one of the most popular little girl names of the moment, and it's being used now more than ever. Don't be surprised if you choose this name assuming it's unique and your daughter ends up with 3 other Macys in her class when her school career begins.
Photo by Scott Gries/Getty Images