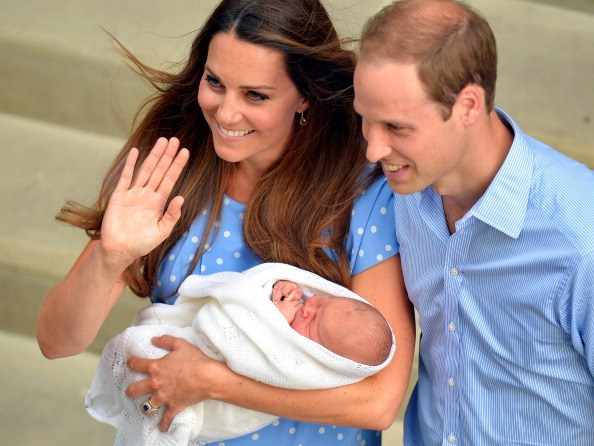 The history of a name is important. While many families simply choose names for their newborns that they like the sound of, others spend a great deal of time considering a name with history, meaning and even a family background. One such name is George Alexander Louis, the name of the 13-month-old royal son of Prince William and Kate Middleton.
The speculation surrounding the intended name of Prince George was buzzing for months prior to his birth and the announcement of his royal name. Royal watchers speculated for months that the couple would choose a name such as Spencer in honor of Prince William's late mother, Diana Spencer, and they were incorrect. However, they were correct in thinking that the Duke and Duchess would choose a name with a deeper meaning.
The Origin of George
In the case of Prince George, the origin behind his name was his great-grandfather, Queen Elizabeth's father, King George VI. He was the King of England from 1936 to 1952, when he was succeeded by his daughter, Elizabeth, following his death. However, Prince George's grandfather was not the first George in the royal family. George I became king in 1714 and he was succeeded by George II and III – the third being rumored to have issues with insanity. Additionally, George is the name of a patron saint in England, which originates as far back as the third century.
The Origin of Alexander
The name Alexander means "defender of men," which is an aptly chosen name for a prince. The Latin version of the Greek Alexandros, Alexander, is often used in royal families in remembrance of Alexander the Great.
The Origin of Louis
Louis is actually a rendition of Ludwig, which means "renowned warrior," in the English and French languages. The name Louis is derived from Prince Philip, the Duke of Edinburgh, as his uncle bore the name Louis. While Prince George is the first British monarch with the moniker, it's very popular in France. Many of the French kinds have adopted the name Louis during their reigns.
Popularity
When the royals decided to name the newest Prince George, it wasn't a surprise to many in Britain, but it was a surprise to many across the world. George is not a name that's overly popular this generation. It's a bit old-fashioned and dated. From 1881 to 1911, the name George was ranked fourth or fifth most popular for little boys. From that point on, however, it consistently dropped down the list until it was ranked 157, with fewer than 2,522 babies being given the name. Louis is even further down the list, though Alexander is a fairly popular name that breaks the top 50 in terms of popular boy's names.
(Photo by John Stillwell/WPA-Pool/Getty Images)