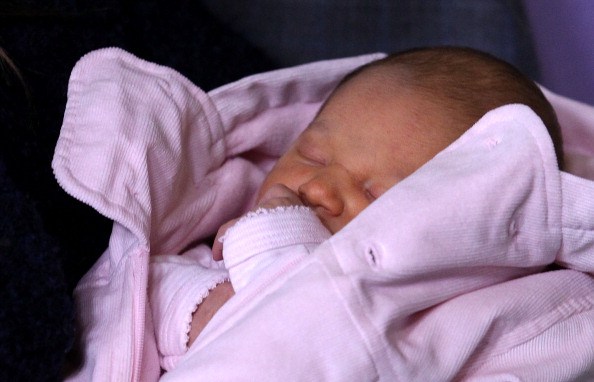 Realizing that your little girl is the third Addison in her class is a little disheartening, especially since naming her so many years ago seemed like such a unique thing to do. Or how about enrolling your Ava in VPK only to realize she's one of 5 Ava's in her class? Or how about choosing to name your girl twin Charlotte because it seems classic, beautiful and not trendy only to have the Duke and Duchess of Cambridge turn around and give their new daughter the same name just over a year later? Or how about naming your twin son Carter because it sounds strong, presidential and it's unique only to find out everyone and their mother (haha) named their little boy Carter last year?
Names are not something you can easily choose with a guarantee that your child will not be one of a half dozen kids in his or her graduating class with the same moniker unless you choose to name her something along the lines of Bloodmoon Half Princess Jessica of Chadwick – because I can promise we have yet to see that one in any of our kids' classes.
Many people are turning names they love into names that are a little less common by using the French version of the name. Instead of having three Anthony's in one class, now you're going to have two Anthony's and an Antoine – because translating names means fewer kids are likely to have them when it comes down to it. So, what are some of the most unique French names you can give to your little girl? We have them here for you.
Colette
This lovely little girl's name is the shortened version of Nicolette, and it's perfectly French without being fussy or stuffy. It is derived from the name Saint Colette, who was a well-known nun from the 15th century who loved to give her money to those without any of their own.
Eleonore
It's merely the French version of Eleanor, and it's a beautiful name that many people cannot resist. It's just a touch different than the standard version, which makes it just a little different but not too much. It's a very feminine name, and it's one that is commonly translated in many countries.
Elise
If you love the name Elizabeth but do not want to use such a common name, perhaps this will work well for you. Elise is the shortened and French version of this name, and it's just lovely. It sounds like the kind of classic name given to real ladies, and that's what a feminine name is all about.
Ines
No one is overly in love with the name Agnes when choosing something feminine and lovely for their daughters, but the name Ines seems so much more doable. That's what this means in French, but it's different enough that there will likely be no other kids in the same class as your daughter with this particular moniker.
Luce
Short for Lucy, this lovely name sounds more Italian than French in my own book, but it's a sweet name bound to be highly individual and unique for any little girl in your life. It's short and sweet, and it's still very feminine, which is not always the case with some names that are shortened and changed a bit based on the influence of the original name.
Margaux
The name Margot has become quite popular thanks to the rising fame of the very lovely Margot Robbie and her acting skills. However, it's too common now. That's why this is the new variant; the French version of the same name. It's derived from two places; a town in France known for its wine production, as well as the granddaughter of famed author Ernest Hemingway.
Odette
If you are tired of seeing all the girls in your daughter's class go by the names Oda or Odilla, you might try Odette (or Oda or Odilla since they are not common American names) to be just a little different. If you love Swan Lake, you will recognize this name as the name of the princess turned swan in the beautiful ballet, but it has never really caught on in America.
Sabine
Shortened (how since it has the same number of letters?) from the name Sabina, this French name is just simple and sweet. It's both French and German, which makes it a little more popular in other countries, but not so much in the states.
Laure
Laura is one of the most common names in the United States. It might not be nearly as popular today as it was in the past, but it is one that has been used over the course of many years without hesitation by many. If you're looking to use the name but without being entirely casual about it, consider using the French variation of Laura, which is Laure. It's simple and it's sweet, and it can be pronounced very simples as "Lor," to keep it peaceful.
Josette
Josephine is a common name in many cultures, but we like the French version of Josephine all that much more. It's Josette. It sounds so much more feminine and less masculine, and it is a name that can be given to a little girl being named after a grandmother, a grandfather or a parent. It's a lovely name that can give a traditional family name something a bit special and unique, which is what you are going for here.
Now, keep in mind that these French girl names are not nearly as popular in America as they are in France, but they might be. As more and more people are looking for a unique way to name their daughters so that they are not just like every other child in class growing up, more and more parents will turn to lists such as these that promote names that are not common in America. Give it a few years and every kid in class will have a name that today is uncommon.
Photo by Getty Images