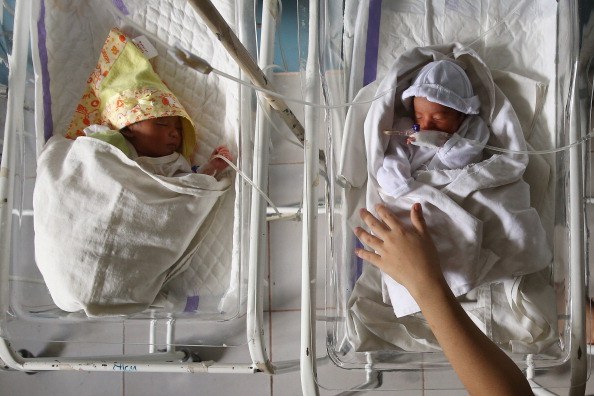 Baby names trend just like everything else. Maybe we don't always put much thought into why they trend or what makes a particular name trend as much as others, but they definitely trend. Anyone with a 6/7-year-old by the name of Addison other than myself? It seems that the name my husband and I chose for our oldest was nowhere near as unique as we thought while naming her. I cannot even tell you how many we encounter now. The same goes for the names of all our children, and that's just life unless you name your kids Dweezil or Moonshadow or Demented or something of that nature. This year there are tons of popular names, but there are 10 very specific trends when it comes to naming babies. So even though you'll see many with the same name, you'll see many with the same "theme" so to speak, in the coming year. Now that everyone and their mother has announced her pregnancy around Christmas and the New Year (not me, four is plenty, thank you!), sit back and let us tell you how you'll all choose your children's names this year. Here are the biggest name trends of 2015.
Short and Sweet
This is one of the biggest baby name trends of the year, and it's a good one. We love a short and sweet name. They're more common, lovelier names than some of the biggest trends of the years past. These names tend to fall into the 'normal' spectrum of simplistic names. For example, Tom, Max, Eve and Ava make for great short and sweet names that aren't off-the-wall or crazy, nor do they make you wonder what's wrong with people.
So Colorful
No one is naming their children anything inappropriately colorful, but they are using vibrant hues as inspiration for baby names. Expect five or six years from now to see a lot of Fuschias and Magentas in the kindergarten roster at many schools across the country. Perhaps Beyonce and Jay-Z started the color trend when they named their daughter Blue Ivy, but people have taken this trend even further with neon hues.
Generation's Past
Lovely names that are typically considered "grandma" names are making a huge comeback. The Hazels and Margarets and Beatrices of the world are going to have an entirely new reason to smile now that these names are more popular than ever. The truth behind these names, I think, is that they tend to sound a bit more refined and elegant than others. We have twins almost a year old and our little girl is Charlotte Marie based on the fact that we thought it was a bit traditional, old-fashioned and lovely. We thought it sounded pretty and feminine, and a little elegant.
The Salad Bowl
Kale and Romaine are typically things you find in your salad, but now they're awesome baby names. Surprisingly, I've never met a baby by either name but I do know a Cale in real life – and he's my age. While carrot and tomato might come across as weird, these two names straight from the garden aren't too bad in theory, and we can't say we hate this salad bowl naming trend.
Girl Names for Boys
It seems that a lot of girl names are now being claimed by little boys across the world. Jaden, Alexis, Carey and Casey and Courtney are just a few of the names that you've seen more often on girls lately. However, that's about to change. These little girl names are actually primarily boy names; or they were, anyway. And it seems that parents are taking these names back for their little boys and making them, once again, more unisex than anything else. But the trend this year is boys taking these names.
X Factor
Who doesn't love an X in the middle of a name? Apparently most people do since this is one of the hottest baby naming trends of the year. If you can find a name with this letter somewhere in the middle, you will use it. We promise. Names like Jaxon and Maxwell are making huge appearances across the world, and it seems that X is just exotic enough to make the names trendy.
Ella's and Ett's
Many parents are making it known that they love the ella and the etts of the world, except they only love them as additions to the end of names. Maribella, Jett and other names that have these letters on the end are going to be very big in the baby naming world this year, and you're going to hear the sounds in your sleep.
Location, Location, Location
Paris, Sydney, London, Brooklyn; they're all popular names people have been using in the past few years. This year, however, it's the less exotic locations around the world making their comeback. It's the dirty south. Kids are going by the name Tennessee and Georgia and Carolina are the hottest names in the location trend this year. If you're looking for a good name based on a location, think southern.
"S"
Anything that ends in S is going to be very big this year. The trend works well with both girls and boys, and it's not looking to go anywhere anytime soon. You'll see an influx of babies with the names Silas and Zacharias and Alexis and other names that have this letter at the end. We don't really know why, just that the sound is there.
"Er"
Another end of the name trend that's going to be quite large this year is the "Er" at the end of names. You've already seen this happening in recent years with the growing popularity of the name Harper, but now it's extended beyond that into other names. Dexter, Alexander and other names with this letter combination on the end are going to make a huge comeback this year, and it's going to be pretty evenly spread across the gamut with both girls and boys. It's even a trend when naming dogs these days.
Photo by Dan Kitwood/Getty Images