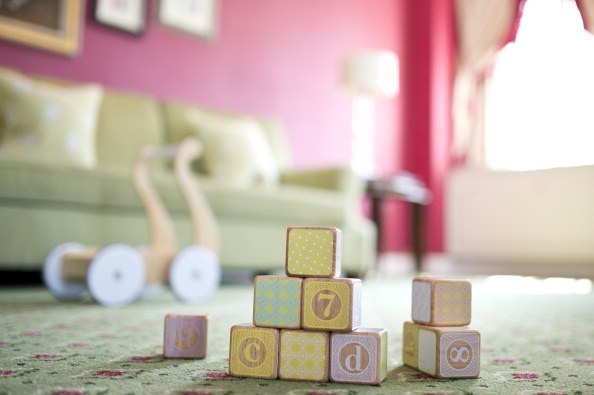 Welcoming a baby into the family is an exciting, thrilling, scary and overwhelming time for new moms and dads; especially when it comes to figuring out exactly what you need and do not need for your new baby. Ask any parent and they'll all have different wants, needs, can't-live-withouts and don't bothers (for me, baby wearing items and bibs are pointless, but other moms use them religiously). However, there are three universal items that are not really necessary – and this comes after listening to moms talk about them for years (and personal experience).
Changing Tables
You will change your new baby everywhere in your house except for the changing table. You might use it once or twice out of excitement, but that's really it. It will become the place you never use. Why? Because your baby will likely sleep in your room in a pack-n-play or bassinet for a few months; this means you will change your baby on the changing pad on it, in it or even on your bed. Your diapers and wipes will be there. You will change the baby on the floor, on the couch, in the car and everywhere in between. You will not, however, change your baby on the changing table. Trust me – I still have the changing table we spent hundreds of dollars on when we were pregnant with our first and four kids (including our 2-month-old twins) later, we've used it maybe 7 times.
Diaper Genie
Who needs another trash can to clean? No one! Additionally, since your diaper genie will likely be next to the changing table you will never use in the nursery your child will not use for months, it's a waste (please see "changing tables" above). It's much more cost-efficient, clean and less disgusting to just purchase the scented little blue bags in the baby aisle, place them near your trash can and toss your dirty diapers in them where they can be tied right up and tossed in the real trash can – no smell every time you open the trash can to toss a new one (unlike the diaper genie we used for approximately a week before realizing it's disgusting).
Nursing Chair
Now, don't get me wrong; we buy a new one for all new babies, including the twins, because I really wanted a swivel, rocking, reclining, plush and gorgeous chair for the master bedroom nook, so we placed it in the nursery at first. However, it's a waste. You'll never use it (please see "changing tables" above). Your baby will sleep in your room for a few months. He or she will only wake up through the night for a few weeks – if that – and you will not want to trek across the house to feed the baby in a chair in the nursery when it's so much easier to let your husband hand her to you while you're propped up in bed ready to nurse. During the day, you'll want to do it in a favorite chair in the living room so you can watch television, your other kids playing, talk to your husband while he's in the kitchen or read your favorite new book. You won't want to bother with sitting in the nursery.
(Photo by Ben A. Pruchnie/Getty Images)