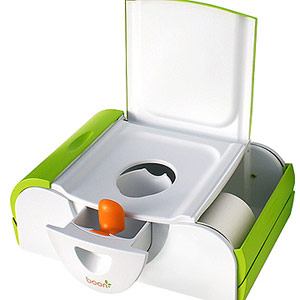 Creativity, patience and some sort of adults-only outlet for your frustration and your effort are required when potty training a toddler. Trust me – I have four of them. There is no one size fits all method for potty training, and some kids refuse to learn until they are ready. What we learned the first time around with our oldest is that you cannot force a child to learn to use the bathroom in the potty until he or she is ready. We were stressed and overwhelmed and we let what other people said get to us. I'm here to tell you this; everyone else can shut it. Do what you want to do, when you want to do it and on your child's schedule. Your kid is not graduating high school in a diaper, I can promise you that. If your kid is 4 before he or she is ready to use the potty – fine. If she's 1, great. It doesn't matter. After potty training two kids, we're waiting until the twins literally speak the words, "Mommy and daddy, we'd really like to use the potty and stop with the diaper stuff, mmmkay?" because that's how unimportant it is to us at this point.
If you are in the potty training stages or about to start the business of teaching kids to handle their business, allow me to recommend some of the potty training products that people seem to love the most. I have not used all of these – we actually did not use any. We used a grown up toilet and that was all, but I belong to numerous twin groups online and all my friends have kids and these are the products about which they rave the most.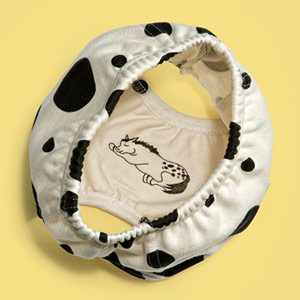 Potty Pony Pal – $20
When we potty trained our oldest when she was just over two, we literally removed her diapers and stuck her little butt in panties. It didn't take her long to pick up on the fact that being wet and messy wasn't her thing. She was fully potty trained by the end of the day. We tried the same thing with our younger daughter when she was 3 and she didn't care in the least that she was wet or nasty. Does. Not. Phase. Her. These might have made the difference. They're like big girl panties, but the pony inside disappears when it's wet, and who wants their awesome pony to go away?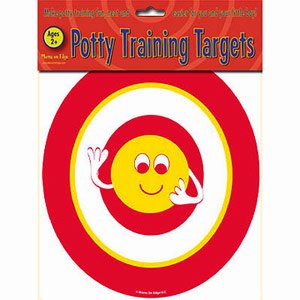 Potty Training Targets – $10
I'll readily admit that my two potty trained children are both girls. My only boy and his twin sister are only 15-months-old so potty training hasn't even crossed our minds at this point. I haven't used this, but several of my girlfriends are 'boy only' parents with multiple boys and they've used it. And they swear by it. This is, according to several boy only moms, the must-have way to teach a little boy to use the potty in the toilet. It's a game, and that's what their kids love and work well with.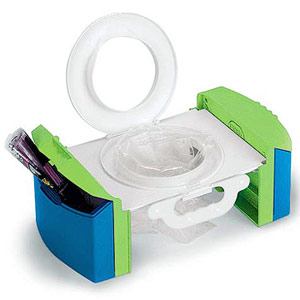 Travel Potty Chair – $25
One of the biggest concerns parents face when potty training their children is figuring out how to get to point B from point A with a kid in underpants and no real control of time when it comes to using the potty. This seat is perfect for travel. It whips right out of the car, has an easy clean system and allows your kids to go potty anywhere, anytime. It makes traveling while training – and long after – that much simpler and less stressful.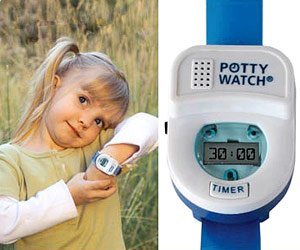 Potty Watch – $11
If you're like me, the biggest struggle with potty training was the time aspect. You're supposed to take the kids every 30 minutes at first. I always forgot because I'm a work from home mom and that means I have about 100000000 things going on at once and looking at the clock to see if a half hour has passed is not one of them (except on long, long, long days and it seems those days a half hour never passes). If I'd known about this watch, designed for toddlers to wear to beep at a specific interval to remind them to potty, I'd have had one in a heartbeat.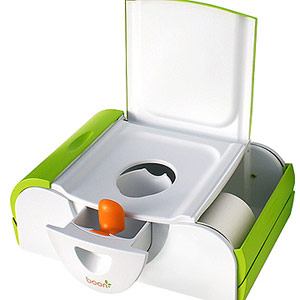 All-in-one Potty Bench – $35
What everyone seems to love about this potty is that you can simply pull out the dirty container from the front rather than dissembling the entire top to get it out. It makes for easy clean-up, and it stores all the essentials for your kids when they use the bathroom with two cool drawers. What I find attractive about this product, however, is the fact that it closes and turns into a stool, which makes it an awesome two-in-one item.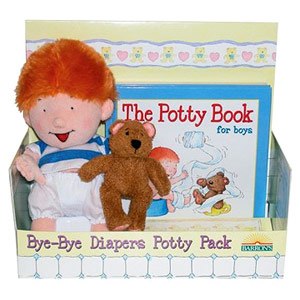 Bye-Bye Diapers Potty Pack – $25
This book, for boys, is designed so that your little one has a doll of his own that has a toilet of his own so that your little one does not feel alone in the process of using the potty. It's a cute book and concept that I've heard several friends highly recommend for their kids potty training endeavors.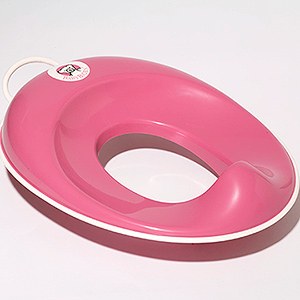 Toilet Trainer – $30
Eventually your little one will not need the baby potty seat on the floor anymore, but the big potty is going to be, well, too big for that tiny hiney. My suggestion is this Baby Bjorn potty seat. Leave it in her bathroom on top of the toilet so that she can climb on and off when she needs to go and you never have to worry that you'll end up fishing her rear end out of your toilet in case she ends up stuck.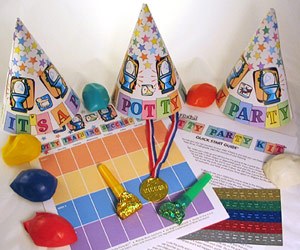 Potty Party Kit – $10
This is something that many parents use to celebrate the success of potty training. It worked for a friend of mine whose kids just wanted a party so desperately he used the bathroom all day long for a solid week with no accidents just so he could celebrate. The thought of his party sitting on a shelf in the house was too much for him. He wanted to celebrate, so he did it.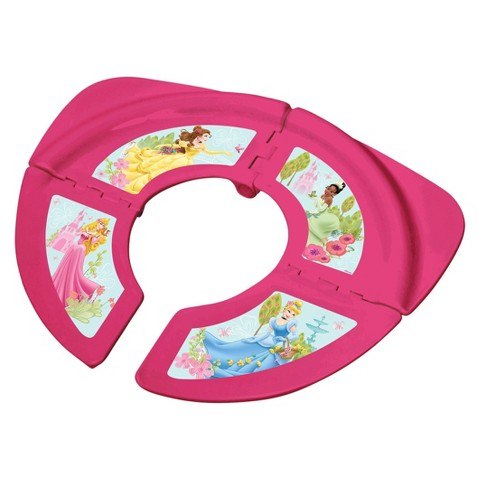 Folding Potty Seat – $10
This is something we used for many years with our kids just because it's so easy (though I do recommend putting it in a grocery bag and carrying it around like that and washing it when you get home). This seat folds right up for easy storage and makes public potties easier for your little one to use. Not to mention much cleaner.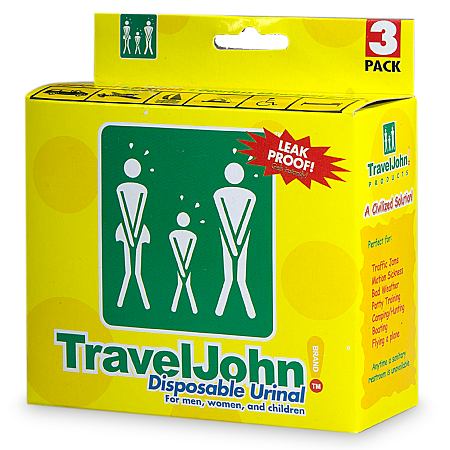 Disposable Urinal – $5
Now this one I'm not so sure of, but I've seen on my twin groups that people love it. It's a disposable urinal for little boys when no bathroom is available. Personally, I'd let them be boys and do their business somewhere private, but I can see how some might not feel that's appropriate.
Photos by Amazon.com