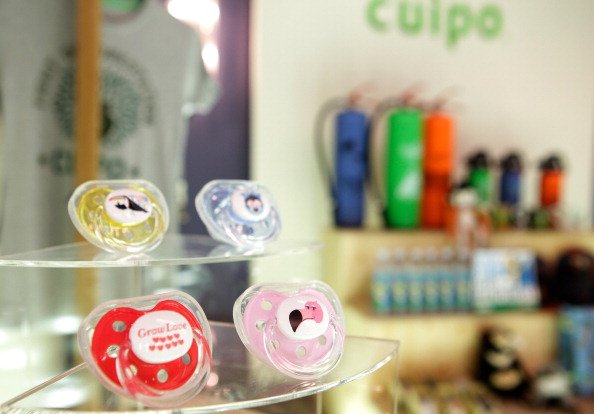 If you are having a baby this year, you're going to be very excited about all the cool new baby products that are available for parents this year. If you are having your second baby this year, you're going to be amazed just how many new products you have to choose from for your new baby that weren't around when you had your first (and if you're having your third or more, you are already excited thinking about all the different baby products that have been introduced since the last time you were amazed at all the baby products you missed out on the first time around). Like anything else in life, baby products are amazing and beneficial and helpful to new parents; and some are not. However, there are some that just blow you away when it comes to parenting, and we have the list now. My twins are my third and fourth babies, and they're 10 months old today; and I'm already bitter thinking about all the new products that are available to new parents-to-be that weren't available just 10 months ago. You new parents have it so easy (I say that with a smile and loads of congratulations for all of you). Read on to see which 10 new baby products are the must-have awesome items of the year this year (many of these are not available until at least spring 2015 and have not be provided with prices just yet).
Pacif-I
This awesome pacifier not only allows your baby to feel a bit of relief and comfort, and probably even helps him or her sleep, it also helps you to tell how you're baby is. Your baby's pacifier is connected to the Bluetooth on your smart phone and it conveys your baby's temperature to you through that. That's not the best part however. If your baby's pacifier is lost and everyone is in a panic, the Bluetooth on your phone will show you where to find it. And that, ladies and gentlemen, is the best baby product ever invented.
Uppababy Vista
Perfect for someone like me with twins, this small and compact twin stroller is amazing. Even if you have one that's just a bit older than your soon-to-be baby, this will work just fine. This awesome stroller allows you to maneuver and move and change positions and do all kinds of cool things.
Doona Infant Car Seat
Let me just say that if you can make this in a twin, I'll buy it and pay whatever ungodly amount of money you are asking. By far the coolest and most beneficial product EVER made for babies, this is a stroller AND an infant car seat in one. ONE. That means you DON'T have to go out and buy a bigger SUV with a bigger trunk or an ESV body style. You can just pick up the baby and roll him or her wherever you need to go. Get one. Get one now. You lucky, lucky parents.
Uppababy G-Link Double Stroller
I'm not going to lie, we are buying this. We've been on the hunt for a great double umbrella for the twins now that they're a little bigger, and this seems amazing. It's lightweight and efficient, and it's got what we need to get these babies comfortable and confined so they're safe and we're stress-free.
Stokke Flexi Bath
Even with three bathrooms and plenty of space, we absolutely hate the idea of having baby bathtubs all over the place; all parents do. If you are like us or you don't have much space, this is going to be a dream come true. This bath literally folds up into something slightly wider than paper and makes for easy storage and safe baby bathing.
VivaLink ESkin Thermometer
Everyone knows it's difficult to take the temperature of a baby or a toddler, and sometimes even of kids that are a bit older. When they're sleeping and you need to know if they're getting better, you can't wake them so what are you to do? This new thermometer sticks to their forehead like a fun sticker and then reports their information back to you on the back when it's done. It's genius.
Nuna Leaf Wind
This is a sort of bouncy chair that doesn't really bounce so much as it winds and moves and gently rocks your baby to sleep the same way that you would. Honestly, my kids never bothered with bouncy seats or swings (yet we always bought them) but I bet they would have loved something like this. Either way, it's cool looking, so you might want it for that reason alone.
Orbit Baby Jogger O2
If you love your Orbit, you will love this even more. This is the jogging version of your favorite stroller and it's making life all that much easier. It's sleek and compact, lightweight and efficient, and it's going to change the way that you do business when you run with your little one.
Bugaboo Runner
Everyone with a Bugaboo loves it, and this is the answer to their prayers. The only way you won't care for this new stroller is if you don't run. And then you're probably going to want to start running (1 – to tighten everything back up once baby arrives and 2 – so you can have this). This is a great find for parents, and I'd highly recommend it based off its non-jogging sister.
Intel Smart Clip
Your heart breaks every single time you see a baby on the news that lost its life because a parent unfamiliar with the routine took the baby to work that day and forgot to stop at daycare first because they're just not used to this routine (or they're completely careless or they did it on purpose; it always seems so hard to tell). This is something that clips to the car seat that holds your baby and works with your phone. If you leave a baby in there, the clip will alert you to any movement in the car seat when the car is not on. It could save your baby's life.
Photo by Athanasios Gioumpasis/Getty Images