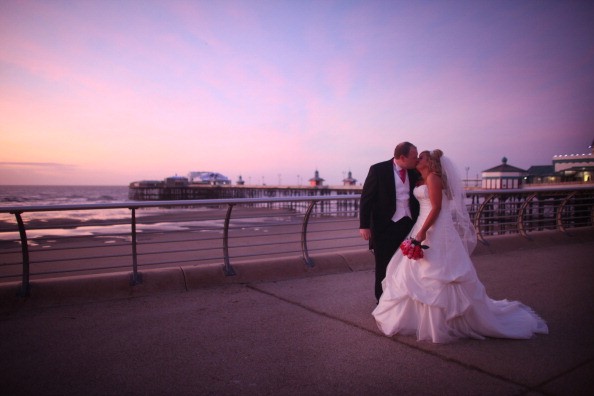 Your wedding is a day you will remember for the rest of your life. You only get one – hopefully – and it should be a day that's beautiful, memorable and not one that leaves you so far in debt that you can't afford to buy a house, retire or have kids at some point during your marriage. Since the number one cause of conflict and strife among married couples, and a leading cause of divorce, is your finances we recommend that you not spend too much on your wedding so that you start off your marriage in a good financial place. That means saving money where you can planning your wedding. Of course, that doesn't mean your wedding day has to be 'cheap' but it can be inexpensive. There are, however, just a few things that are absolutely worth the splurge on your wedding day. They are worth spending just a little bit more money on, but you should still try to find the best possible deal before you make a final decision as to which one you want to purchase.
Lighting
There are a few things that will make a big difference when it comes to changing the ambience of any room or outdoor location, and that's lighting. If you splurge on anything for your reception, make it lights. You want a glow that will incite romance and happiness, and this is how you are going to get it.
Photographer
You get to take very few things from your wedding into your future, and your photos are one of the most important. If you cheap out on a photographer, you will regret that decision for the rest of your life. Hire a good photographer so that you end up with photos you love for the rest of your life. It's the one thing you have to spend money on if you ask any bride.
Food
Most people don't spend as much as they should on food and it's obvious. You should splurge here and go with a good caterer instead of someone who isn't as good. The food is something people remember but unfortunately, it's something most wedding guests remember with a bad taste still in their mouths.
A DJ
You can hire a band if you want, but there is nothing quite as good as a DJ who will play all the best music and all the hottest songs. A DJ is going to get the crowd up and moving, and he or she is going to make sure everyone is having a good time.
An Open Bar
Even if you can't have it open all night, it's a nice thing to do for your guests to have it open for a bit. By having an open bar at your wedding, you get to enjoy yourselves and not have to listen to people complain. However, you should be careful that people don't take advantage of the free-flowing alcohol.
Photo by Christopher Furlong/Getty Images