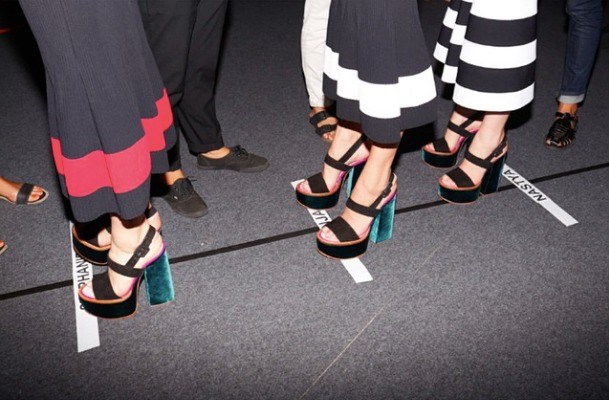 Anyone who follows Victoria Beckham on Instagram has been getting an eyeful of insider looks at the designer's first collection of designer shows. The fashionista Spice Girl-turned-designer showed her Spring 2015 collection at New York Fashion Week on Sunday and the models sported Beckham's first line of shoes in addition to her clothes and bags.
The show took place under the beautiful painted ceilings of Manhattan's Cunard Building and displayed Beckham's unique, menswear-inspired footwear. They shoes were not tall, teetering stilettos like the petite singer/designer wears herself. Instead, the looks included flat, pointed-toe leather oxfords, printed in leopard or adorned with flowers. There were also gorgeous, chunky platform sandals in black and leopard with bands of color and textured, colored heels. In fact, the only stiletto in sight throughout the whole show was seen when Beckham appeared on stage at the end.
Beckham hasn't actually decided yet whether she will produce the shoes for retail. Reportedly, she designed the shoes with the purpose to complete and strengthen the looks showed on the runway. But considering how fabulous the shoes are, it wouldn't be surprising if buyers are able to persuade Beckham to manufacture them in time for spring.
The show is considered among Beckham's best, most well-edited collection to date.  The looks seen contained slim, straight-edged tailoring paired with soft edges, a sophisticated juxtaposition. The designer also put an emphasis on rich solids over prints for the clothes, which meant the printed shoes popped even more and added a fun burst of print. The two prints seen in clothes were a yellow and a pink floral, as well as some simple striping. The show included beautiful coats, with a single fluttering lapel that cut diagonally across the waist. Each coat was accentuated by occasional bands of color on the belts or collars.
Beckham is opening her first retail flagship in London this fall, and helping to plan the store, she says, has pushed her to "focus on the DNA of [the] brand more than ever," as reported by Fashionista.com.
It appears she has succeeded in this mission.
(Photo courtesy of Instagram)