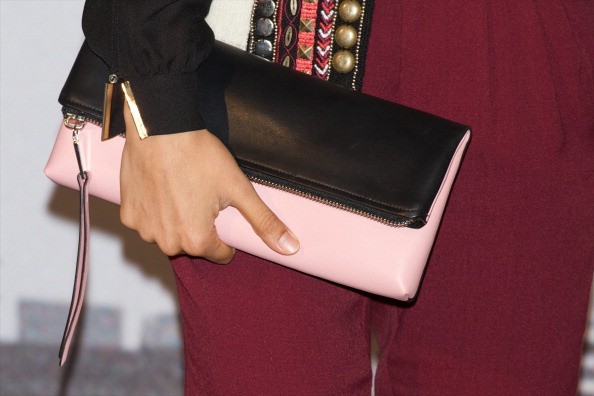 Designer handbags are an investment (and no, that's not just what I tell my husband when I buy one). So long as you choose a designer bag that's timeless and classic versus trendy and in-the-moment, the hundreds or thousands of dollars spent won't matter. With a great, structured, neutral designer handbag, you can get decades of use without the need to ever buy a new bag. Let's break it down; you buy a Louis Vuitton handbag for $2000 and have it repaired, fixed and mended free of charge for life (not that you'll need it with this well-made bag) and carry it at least 3 days a week for five years. That bag cost you $2.56 a day to carry. And you'll carry it for years and years after those five years pass.
With a cheap, poor quality bag, you get little life out of it and need to replace it frequently. It might not seem that $50 here, $40 there, $60 here make that much of a different to your budget, but if you do that every few weeks, you might as well have just purchased the designer bag. Fortunately, not all designer bags are thousands of dollars. Some, like Coach purses, for example, are downright cheap in comparison to Hermes, Louis Vuitton and Chanel, but they're well made. A full price Coach purse averages around $300, but you can get them a lot cheaper. Where? The Coach Outlet store; look them up to see where they are located.
Most bags are at least 25% off the retail price, but usually a lot more than that at the Coach Outlet store. Additionally, you'll know that these bags are authentic – unlike shopping somewhere such as eBay or online and wondering if you're getting the real thing.
Another great place to try is your favorite department store; it doesn't happen often, but they do occasionally reduce the prices of Coach bags so that they're actually pretty cheap. Just know when to look. You might befriend a sales associate that will keep you up to date on when the sales are going to happen so you're always prepared.
It's best to avoid online sellers and sites like eBay or other auction sites where you have to take the word of the seller. Some are completely legitimate and can even offer receipts from the original purchase. However, it's just much better to go with what you know is legit and save from day one.
Photo by Carlos Alvarez/Getty Images