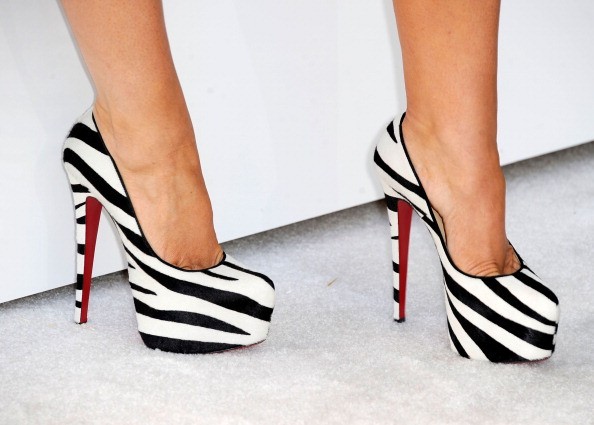 Manolos, Louboutins, Choos, Chanel: These are shoes so gorgeous they will change your life. Just about every fashionista in the world is looking to own a closet filled with shoes of this nature, and we all love that they're so beautiful. We all hate that they're so expensive. More than $1000 for a pair of Louboutins is ridiculous. Spending $400 to buy a pair of Choos on sale feels amazing, but it's still admittedly a splurge for most. Shoes are so beautiful, and we all know that a pair made well and purchased in a classic design and style will last us years to come, but most women know that it's not practical to splurge on every single pair of shoes she buys. Some, yes; others, not so much.
But how do you know on which shoes you should splurge and which shoes you should save? How do you know whether or not to go ahead and spend the extra money on the shoes or buy them cheap and save the money for something more important? We all know that the right shoes can make any ensemble look chicer and more expensive, but how do we know how to pull that off? The answers are actually a lot simpler than you might expect, and we have some advice for you to help decide when to splurge and when to buy the cheap shoes.
When to Splurge
Shoe experts, such as shoe buyers, professional women and those who wear shoes (um, all of us?) have a few basic opinions on this one. The first is that you should always, always splurge on the shoes you wear the most. For example, do you spend most of your time in class black pumps in the office or boardroom? If so, you're going to want to splurge on those because they're your daily wear shoes, and they need to look good on a regular basis. When you buy cheap black pumps, you are splurging on materials that are not designed to last. This means you're going to find that after two or three months, those $50 pumps will need to be replaced with another pair. If you do that all year, you're spending $300-$400 per year just on black pumps.
That's why splurging is better, because high-end shoes are designed to last a long time, to tough out all kinds of wear and tear, and to be more comfortable. A classic black pump from Jimmy Choo might run more than $500, but this is a shoe that will last you a good 6-7 years, longer if you do not wear them often. That's about a year-and-a-half of purchasing shoes, and you're getting a much nicer pair that will save you thousands over the course of several years.
On that note, it's important to remember that even if you're a stay-at-home mom who lives in flip flops and ballet flats, you should still splurge on those classic heels – think nude or black. These are shoes that you might not wear often, but the more classic the design and the less you wear them, the longer they'll last. To make that point, I have a pair of Jimmy Choo pointed toe, closed back black pumps I bought BC (Before Children) to wear to the office every day. I haven't worn them daily in more than 6 years, but I've had these shoes for 8 years and I still wear them two or three times a week for various functions such as date night and church, and I receive compliments on how gorgeous they are all the time. That's a pair of $400 heels that were worn almost daily for two years and roughly 100 times per year for the last 6.5 years – and I haven't bought another pair of black pumps since. Talk about savings!
When to Save
Here's where the savings comes into play a bit more prominently (it's prominent, in my opinion, in the splurge department since you can shell out the big bucks right away or slowly shell out two to three times the big bucks amount over the course of a few years) in the eyes of most people. You should always choose the save option on shoes that you don't wear that often (save for those classic heels all women need for weddings, church, business functions and just because one gorgeous pair of nice shoes is worth the price). For example, if you're dying for a pair of blue suede heels 5-inches tall (think the gorgeous Brian Atwood heels so popular two or three years ago) but you know you won't wear them all the time, don't spend a lot on them. Buy them on sale or buy them from an off-brand designer. The less you spend on these, the better. You're only going to wear them every so often and probably not even that often.
When to go Moderate
Shoes are a bit more complex than most people give them credit for. They're not all black and white. What this means is that you might need to splurge on some shoes and go cheap on others, but some shoes are worth a moderate price tag as well. Those might include shoes you wear a lot for a very short period of time and then put them away, such as those cognac riding boots. Instead of spending $50-$75 a year on a new pair to wear for three months during the fall and winter, spend $150-$300 on those and wear them for the next four or five fall and winter seasons.
Ballet flats are another shoe you should neither splurge or save on; think moderate. You can find beautiful flats in the moderate price range that are designed to last and not look worn after just a few weeks of wear.
At the end of the day, only you can determine your budget, what shoes are worth the splurge and what shoes are worth the cheap price tag on them. Of course, we always recommend buying cheap designer shoes (like the $36 Stuart Weitzman wedges I bought 5 summers ago at Nordstrom Rack that still look brand new and completely beautiful) when you find them.
Photo by Frazer Harrison/Getty Images