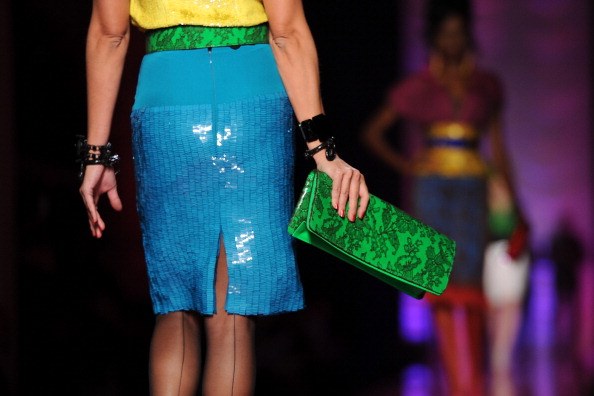 There is nothing as flirty and feminine as a skirt. While many of us prefer a dress since it means we need only look for one item of clothing instead of two separates, there is an undeniable beauty and elegance associated with a gorgeous skirt. For that reason, we love the idea of donning a beautiful skirt no matter the time of year or the temperature. Of course, we have to accessorize our skirts just so in order to fit in with the weather and all that is going on in life, but that does not mean we can't rock a skirt any time of the year. And now that 2015 is here in full force, we have some serious excitement over the look of skirts in the year to come. The new trends are going to be better than ever, and women can expect to go for a feminine, soft look this year. If you're into skirts, you're going to want to know what to look for when you are out and about shopping for your new wardrobe for the New Year. Here are some of the biggest skirt trends to look out for in 2015.
Florals
As spring approaches you can expect to see a great deal of floral in your life. And not just because someone is going to send you flowers to brighten your day. We can expect to see floral prints all over runways and in department store display windows. This is going to be one of the biggest trends of the year, particular as it applies to skirts. Long, shirt and in between, you can expect to see most skirts showing off the pretties of florals at any given moment.
Nautical Stripes
We love a good sailor, and that means we love a good nautical print. It's not a new style, but it's going to be a big one on skirts this year. Women all over the world will be rocking the nautical stripe skirt with everything from boots to wedges to flats and in between. This is a look we can expect to see added to different prints to sort of mix and match fashion at its best. We can't say we hate the concept, but we can say that we are looking forward to seeing how women are going to pull this off.
Midi Skirts
Just like last year, midis are going to make an appearance all over the place. The only difference this year is that they're going to be a lot more popular. Expect to see some nautical stripes and florals this year. Last year it was all about the bold, bright colors and the color blocking. This year it's all about the soft, feminine appeal of midis combined with flowing tops and a more bohemian feel. Women are in the mood to look as casual as possible in a very flirty manner, and that's what you can expect with this type of exceptionally stylish skirt this season.
Pencil Skirts
We cannot say enough how much we love a pencil skirt. Slim and sexy, but long and modest, this is a skirt that just makes us want to pull on a great blouse and put on a pair of mile-high Louboutins and head out for an evening of cocktails with a handsome man. But since my husband has plans with me tonight, the rest of you are going to have to find your own handsome man to enjoy a night out with tonight. This look is one that never really goes out of style, but the additions to pencil skirts this season are worth it. Instead of basic black and office appropriate gray, expect to see more color, more pattern and more polka dots. And who does not love a good polka dot?
Sequins
Love them, wish they were more appropriate for every occasion. I mean, I'd wear sequins to church if I could. When done right, they're fab. We love a gorgeous sequin pencil skirt or one with a high waist. If you're going to go this route, however, you have to do it the right way. You have to wear it with something modest, something pretty and something feminine. Otherwise you are going to look like the kind of woman who worked her way to brunch after a long, long night out. And while you might look like a professional woman, it's not going to be the kind of profession you hope to make obvious.
Pleats
Like a lady, pleats are back. They're gorgeous, and they're going to be on skirts that are a bit longer. This is something you're doing to see on midis and knee-length skirts this year. This skirt, unlike the sequin skirt, is going to pair a lot nicer with more fun items like tanks and sleeveless tops, and even crops. With a much more ladylike appeal, this is the kind of skirt that can be made to look a bit more daring as time goes on. However, be careful not to pair this one with anything to bulky or baggy or you will risk looking a bit more like a bag lady than anything else.
High Waists and Short Hemlines
This is one of my favorites, personally. What I love about this kind of skirt is that the hemline is not too short, but the high waist makes it look shorter and makes your legs look longer. As a not-so-tall woman, looking taller is my goal in life. Heels and hemlines are what make this happen for me. This is a look that can be dressed down or up, and the skirts are going to come in any which way, pattern and color. Stripes are one of the best patterns when it comes to skirts with this silhouette, and it can be worn any way you please. I love a fitted top, a tucked in blouse with a little give and some love the crop top with this skirt (I don't love the crop top with anything, just saying).
Photo by Pascal Le Segretain/Getty Images