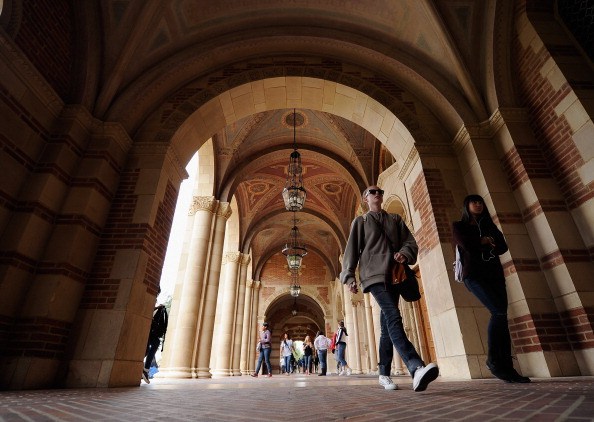 College students are at the prime of their life, which is why we can never understand their constant need to wear pajamas to class and velour track suits with suggestive language scrawled across the rear end. Students, this is the time in your life in which you will look back and realize you should have taken advantage of your good health, your ample sleep and your ability to do what you want when you want. One day you will wake up and want to look as good as you did in college, but you will realize you have no idea what's in fashion, you will have no idea how to style your hair anymore, and you will realize you have children and so much less time to actually spend getting ready and looking gorgeous. Because we want you to be happy with your college fashion choices, we have compiled a list of suggestions to help you look your best when you're attending class. It's the college fashion edition of What Not to Wear.
Skip the College Tees
Yes, you love your college and your team, but no one wears their actual team clothing to events. To be a stylish student showing team spirit, your best choice is to choose a stylish outfit in your team colors, but without any team logos. It should be something you'd wear regularly, just in team colors. This is a great way to prevent you from looking like a freshman who has no idea what people wear to games.
Dress it Up a Bit
There is a fine line between looking good and looking lazy. Don't wear your pajamas to class. You can dress in something that's much more appropriate and just as comfortable. We love a good pair of leggings provided they are correctly paired with a long enough tunic or sweater that you do not look like someone who is wearing leggings for pants.
Don't Carry a Back Pack
The fastest way to look like a middle school student in college is with a back pack. Get a messenger bag or a great briefcase to carry with you. We love a good tote, too. It's a fun way to carry around your electronics, books and other needs without actually looking like a student.
Photo by Kevork Djansezian/Getty Images