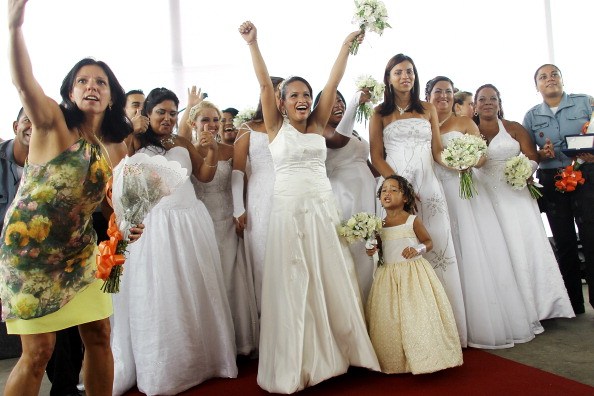 A woman's wedding dress is one of the most important pieces of clothing she will ever own, and no one wants to go cheap when it comes to such an important piece of apparel; but she does want to find one that's affordable. Unfortunately, when a woman has a plus size figure, she's going to find it a bit more difficult to locate a gorgeous wedding dress that's affordable and not 'cheap'. Many designers consider it acceptable to add higher price tags to their designs when the size gets bigger, which makes it difficult on plus size brides.
What we have are a few suggestions that will help you find the perfect plus-size wedding dress that's got a cheap price tag but not a cheap design. It's a difference that will make your wedding day that much more spectacular. It's your day, and you should get to feel beautiful in what you wear without the need to spend a ridiculous amount of money to make it happen.
David's Bridal
It's one of the most popular wedding dress stores in the world, and they have plenty of plus-size gowns that are affordable and beautiful. You will find some designer gowns here, though most are specialized to the store and therefore a bit more affordable. They cater to all sizes, and make it easy to find dresses in their large storerooms, which is what we love about their locations.
Bridal Sales
Stores such as Kleinfeld's and other large bridal department stores are often too expensive for many brides to consider. Spending thousands on a dress is not an ideal situation when it comes to budgeting for the wedding. However, throughout the year, these stores tend to offer sample sales and bridal sales in which they sell their excess dresses to make room for new ones. They're often steeply discounted, and they do come in various sizes.
Off-the-Rack
This is not an option many brides want to consider, but sometimes it's very inexpensive to buy a beautiful dress right off the rack. The key here is to look for a wedding dress that doesn't have any telltale issues, such as major rips or stains. If there are a few loose threads, don't worry. Those can be easily fixed by a seamstress. Additionally, finding a dress that doesn't fit perfectly is also an easy fix.
Photo by Mario Tama/Getty Images