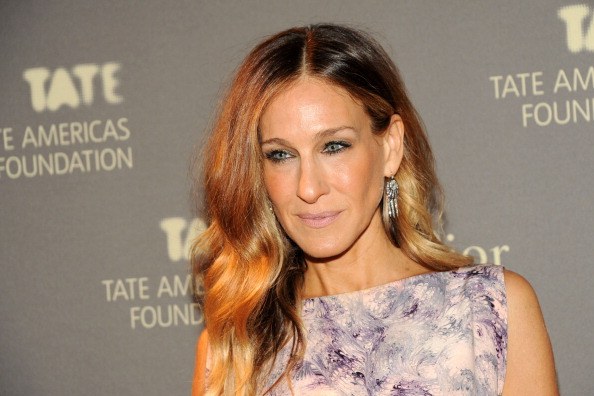 Is there anything this lady can't do, and do well? Actress and fashionista extraordinaire Sarah Jessica Parker made her debut designing footwear this past spring with a collection available at Nordstrom. Needless to say, it was a success, so her second collection is arriving exclusively in Nordstrom stores and online now. The second collection is reportedly similar to the spring one, except a bit more neutral, a.k.a. less "springy." The new selection features a lot of black and autumnal tones like grey, navy, and deep purples and reds. There are several closed-toe pumps, including a Mary Jane that Parker has dubbed "The Carrie."
Remember when Carrie Bradshaw goes in to the Vogue wardrobe closet and is exuberant when she spots the Manolo Blahnik Mary Jane pump? That moment perfectly summarized Bradshaw's love, respect, admiration, and knowledge of shoes. Naming a Mary Jane heel after her sounds like the perfect choice. Parker actually has said that playing Carrie helped solidified her love for shoes. How could it not? Less Carrie and more SJP are the fall-appropriate boots featured in Parker's fall collection. There are two above-the-knee styles as well as a perfect suede ankle boot. The elegant and wearable shoes are, according to a press release, inspired by people in Parker's life that she admires. She named one pair the Pat Boot, after Sex and the City's ingenious costume designer Patricia Field. Parker named another pair, the Serge Boot, after her beloved hairstylist of 14 years, Serge Normant.
In addition to shoes, the collection features handbags as well. The styles range from $220 to $495, while the shoes range from $285 to $695. All pieces feature Parker's signature grosgrain ribbon detail. Most styles are arriving in Nordstrom stores and online this month, with a few styles releasing in September.
(Lead Image by Ben Gabbe/Getty Images)