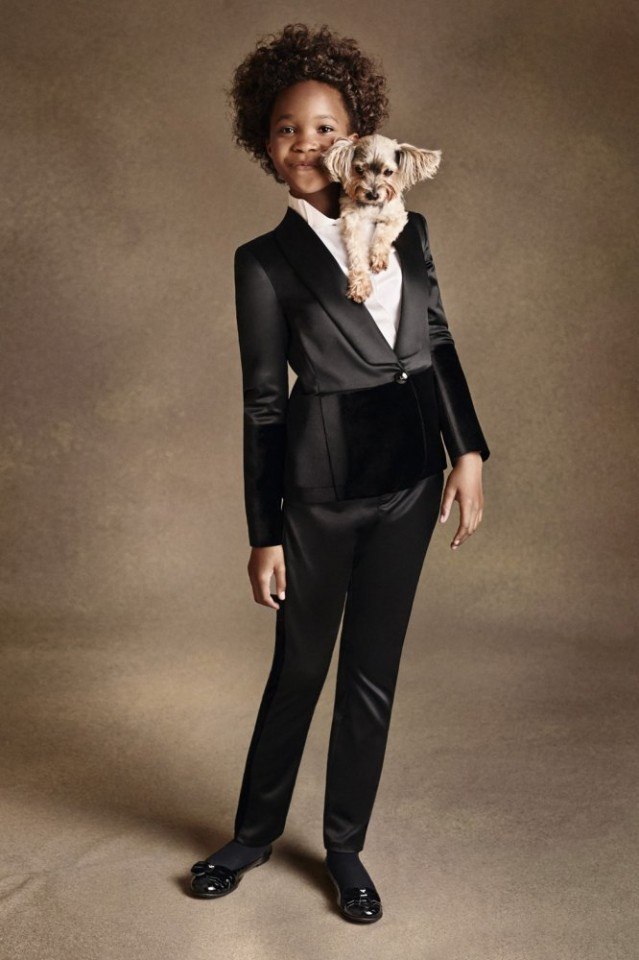 Quvenzhane Wallis is ten years old and can call herself the youngest Oscar-nominated actress of all time. She was nine when she was nominated for her performance in Beasts of the Southern Wild. Wallis can now add child model to her list of accomplishments, as she was named the new face of Armani Junior on Thursday, May 22. Armani Junior is Giorgio Armani's line for children and teens and Wallis is the first major child celebrity to be the face of a luxury brand. The girl is killing it.
The young star was last seen in the Steve McQueen's Oscar-winning drama 12 Years a Slave and is about to become a bonafide superstar, as she stars in this fall's anticipated remake of the musical Annie. Annie also features Jamie Foxx as the Daddy Warbucks-style character and Cameron Diaz as Miss Hannigan. The film is due in theaters Christmas Day of this year.
For the Arrmani Junior photo shoot, Wallis was photographed by Stefano Azario and is shown wearing a stunning, tailored silk tuxedo and holding an adorable puppy.
Mr. Armani chose the young actress because he was drawn to her personality and positive energy. "Quvenzhane is so talented, despite her young age. Her kindness, curiosity and openness toward others really struck me, as they are all traits I admire," stated the designer. "It is for this very reason that I wanted her to be the face of Armani Junior. With her insatiable energy, Quvenzhane made the clothing come alive, interpreting it in her own singular way.
"I'm so happy to be chosen by Mr. Armani to be his ambassador for Armani Junior," the actress said, in a statement released by the brand. "I felt the same excitement when I got cast for a major film. Me? Wow!"
Wallis famously wore an Armani navy tulle gown and shawl to the Oscars in 2013, the year she was a nominee. "I was honored to wear his custom gown to the Oscars," Wallis gushed. "It made me feel like a princess…It's fun to wear Armani Junior since I really like the clothes. It's young. It's cool. My friends are going to want to borrow all my clothes."
(Photo courtesy of hollywoodreporter.com)