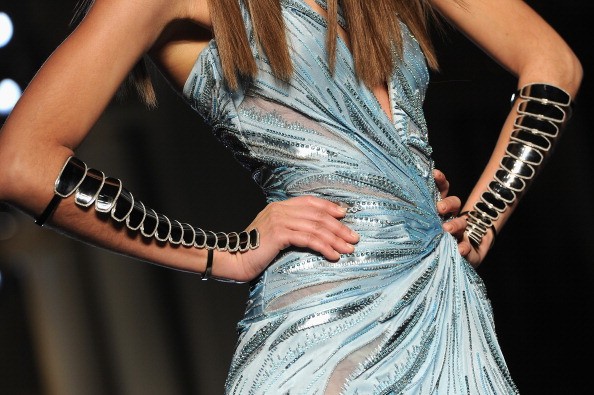 Versace has long been one of the most famous high-end designer brands in the world. This Italian design house has some of the most beautiful items in fashion, from shoes to handbags to wedding gowns to suits. The concept behind the brand is sheer luxury. It's high-end, upscale fashion that makes a statement and defines class and elegance. The styles that were made famous in 2014 are some of the most amazing to date, and these are just five of the best Versace products of the season.
Palazzo Tote in Nappa Leather – $3,795
This is the Versace bag to have this year. It's practical and stylish with its top handles and its long strap that allows it to be carried or worn over the shoulder. With several pockets, and the option to purchase the bag in five different colors from a lovely emerald to a class black, it's the must-have designer handbag of the year.
Side Band Print Trouser – $650
These tailored pants are everywhere these days. Women are wearing them to the office, meetings and when they travel to make a statement. They are fitted pants that are tailored to every woman's body, with a thin leg and a gorgeous print up the side of the pants. They're your traditional trousers with a twist, which is what makes them so popular.
Leather Biker Jacket – $3,995
With the fall and winter seasons upon us, it only makes sense that all women with a sense of style must have this biker jacket. The bright yellow is impossible to miss, and the attention to detail is superb. The line of the jacket is trim and elegant, and it's going to take you everywhere from brunch to the office without missing a beat.
Vanitas Shoulder Bag with Studs – $2,375
This is the statement piece to have from the 2014 Versace collection. The small white bag can be worn with jeans and a blazer during the day and dressed up with your favorite little black dress (Versace, of course) in the evening. It's a statement pieces thanks to the gold circle studs all over the exterior of the bag. When people see you carrying this bag, they're going to know you're a woman with style and class.
Camel Hair Coat – $3,695
There is nothing more elegant and chic than this gorgeous trench. Men everywhere are lining up to order this amazing coat for the upcoming cool season. It's made with camel hair and it's light enough to remain comfortable even when the weather warms up. Perfect for a gentleman with style, this coat is the must-have men's item in the Versace collection for 2014.
(Photo by Pascal Le Segretain/Getty Images)