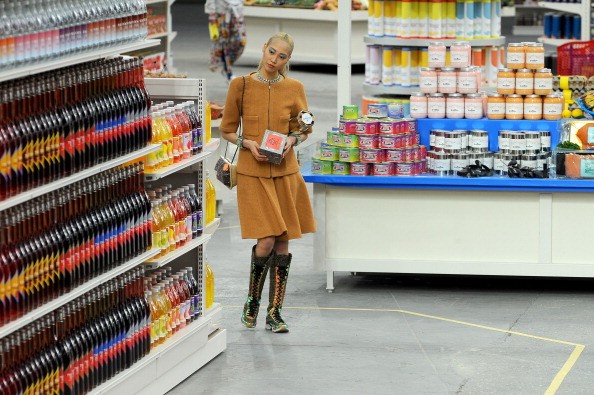 Designers seem to always be trying to come up with a modern, fascinating new way to present a runway show. Louis Vuitton had models sitting on a stunning white carousel, Manish Arora had artists spray painting on a white wall behind models as they walked by, Vivienne Westwood had a laser stream around the catwalk, and Kenzo had models enter down an escalator. But its Karl Lagerfeld and his brand Chanel that are renowned for having extravaganzas that wow viewers with spectacles of grand proportions–and clothes to match.
During Paris Fashion Week, Lagerfeld erected his own "Chanel Shopping Center" on Tuesday morning at the Grand Palais for his fall collection. The set had aisles filled with Chanel-branded pasta, meats, soda, cleaning products, home goods, and reportedly every possible grocery product you could imagine, all stamped with the classic double "C" logo. There were even plastic Chanel shopping carts for collecting goodies. Blue, red, and yellow signs announced the daily specials while "employees" hung out around the checkouts "wearing white cloaks over their button-downs shirts, unfashionably tucked into jeans and cinched with dad-looking leather belts," as reported by Fashionista.com.
After the models (including Kendall Jenner) walked the runway, aka the aisles,  they came up and milled around the store, browsing and picking up items. Even Lagerfeld himself took a spin through the aisles holding hands with model Cara Delevigne. Rihanna was there too, and at one point was wheeled around the aisles in a shopping cart with Delevigne, pushed by model Joan Smalls. When time was up, a voice came over a loudspeaker announcing, "Dear valued customer, the Chanel store is now closing. Please feel free to pick up your complimentary fruit and vegetables as you leave." There were also bags of candy for the taking, including gummies shaped like Chanel No. 5 bottles, little black jackets, and classic Chanel flap bags. 

After the show, the store was looted. No surprise, as everyone present wanted to get their hands on the stuff. Who wouldn't want a Chanel broom or a "Mademoiselle Prive" doormat? An Instagram video went viral that showed people grabbing all the goodies they could get their hands on.
And the clothes?  Like the supermarket, they summed up fast fashion in the most luxurious way possible: Speedy, sporty, and street smart. Sweaters, knit leggings, tweed coats, and sneakers (some knee-high) had the models looking chic and comfortable.
(Photo by Francois Durand/Getty Images)