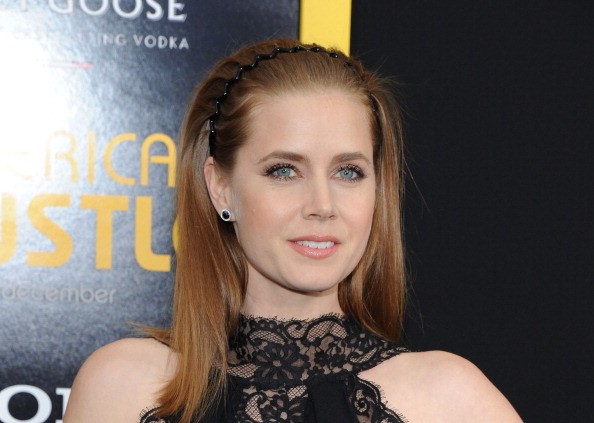 Most major fashion houses have been relying heavily lately on supermodels to star in their advertisement campaigns. You can't look at a row of billboards or in a magazine without seeing Cara Delevingne's face everywhere. But Italian luxury brand Max Mara wanted to do something different and turned to one of the chicest, most talented actresses living today, namely the one and only Amy Adams.
Adams, the 39-year-old actress, has been blowing everyone away with her talent for years, but especially this past year with her starring role in American Hustle. The gorgeous redhead will star in Max Mara's fall 2014 and spring 2015 ads, which were first unveiled inWomens Wear Daily on Tuesday. Shot by famed photographer Mario Sorrenti, Adams is seen posing with some the label's key accessories, including leather handbags (i.e. the Signature Bag and the classic Margaux) and new eyewear styles.
The Academy Award nominee follows in the footsteps of Jennifer Garner, who debuted in the Italian fashion group's ads a year ago.
"Jennifer Garner was the first celebrity we worked with [on the accessories campaigns] and the feedback we received was excellent both in terms of sell-in and sell-out, and in terms of credibility," said Giorgio Guidotti, worldwide president of public relations and communications for Max Mara Group. "This new step is a sign of continuity. The claim is the same: "Timeless is now." These are timeless actresses, not associated to a scoop of the moment."
Around fifty Max Mara windows around the world will be dedicated to the ad campaign beginning at the end of August. Campaign photographer Sorrenti, who is also a directed, also created a short movie on the project.
Later this year, Adams will appear in Tim Burton's Big Eyes and in 2016 will star opposite Ben Affleck in Batman vs. Superman and in Story of Your Life, directed by Denis Villeneuve.
(Photo by Ilya S. Savenok/Getty Images