The vast majority of women love shoes and enjoy expanding their shoe collection immensely. And most of these women find it important to have shoes of all colors, ones that match their many outfits. If you are one such lady, you probably have shoes in black, brown, silver, gold, camel, red, and so on. But what if you had one pair that could change to fit your daily needs – a pair that came with a base that allowed for the straps to be changed depending on what color you want that very day? There is now such a sandal.
Swap your stilettos this summer for an innovative and customizable sandal that allows you to instantly transform your footwear on-the-go. Cambiami  introduces a new kind of shoe that is versatile, stylish, and comes in a variety of colors and patterns, allowing its wearer to customize the pair for every outfit. With your "Cambis," you will not need multiple pairs of sandals whenever you need a quick and easy change. What could be better for packing on a summer weekend getaway or weeklong vacation?
Simply swap the straps, called "uppers," and step into a new shoe within seconds. The first Cambiami collection launched with 24 different upper colors, materials, and patterns. The "build your Cambi" introductory package is $85 and comes with a base and any 2 uppers. Each upper cost $25. With one pair of bases and 2-4 uppers, you are set for mixing and matching your footwear.
Diane Licht, the founder and CEO of Cambiami, came up with the idea for Cambis when she pictured combining her love for traveling and shoes. Inspiration struck during a vacation to Greece, in which she had packed 10 pairs of sandals and she figured there had to be an easier way to accomplish the same goals. Licht spend years developing the perfect design to provide women with sandals that could be instantly changed, that are affordable and fashionable, and that are comfortable on a woman's feet.
"As a frequent traveler, shoes were always the first to fill and weight down my suitcase," says Licht. "I wanted to find a better way for women to quickly and affordably change their look without compromising their style."
Licht's invention is, without a doubt, inspired and revolutionary for footwear. Purchase your Cambis at cambiami.com.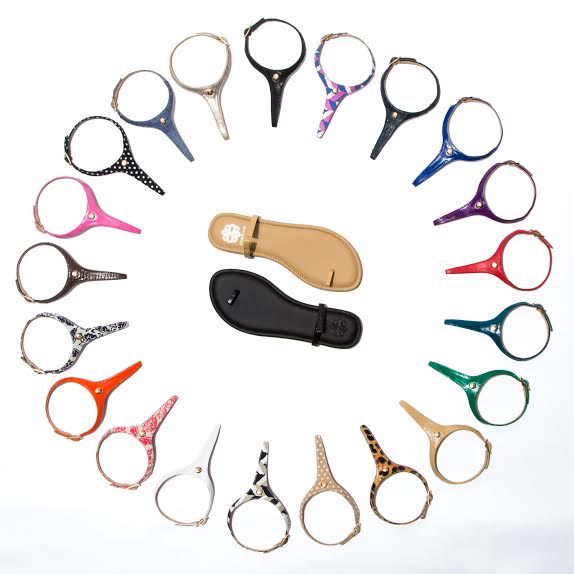 (Photos courtesy of Cambiami)