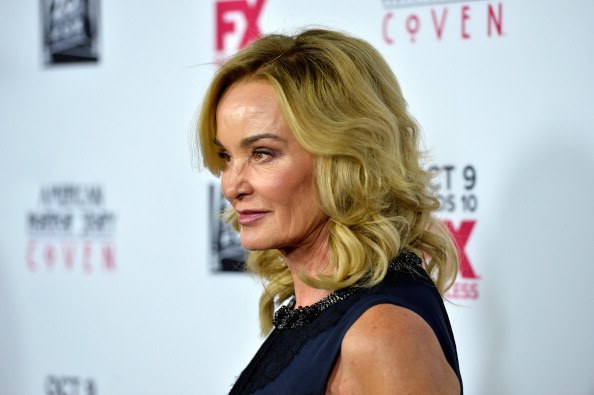 What could possibly be more striking than a gorgeous, sophisticated, mature woman looking stunning in beautiful makeup? NOTHING, and both Nars and Marc Jacobs are in agreement, having recently chosen Charlotte Rampling and Jessica Lange, respectively, to star in the company's new beauty campaigns.
Charlotte Rampling, last seen as Dr. Evelyn Vogel on the final season of Dexter, is a chic British actress. Rampling, who turned 68 earlier this month, was announced Wednesday to be the next face of Nars. Company founder François Nars told Women's Wear Daily that it is her "strength of character" that makes her the ideal model for the brand. "I remember [English actor] Dirk Bogarde referencing Charlotte's 'fabled look' because of the combination of her beauty and withering gaze," he said. "This is what makes her an endlessly watchable mystery." Wow. "Endlessly watchable mystery." Isn't that the most intriguing, amazing compliment you've ever heard? Rampling also happened to be a British bombshell model before changing gears to acting.
Anyone who is up to date with movies and television knows that Jessica Lange continues to be one of the major actress forces to be reckoned with and is more beautiful and sexier than ever. The 64-year old star of FX's American Horror Story drips sensuality and sophistication. Marc Jacobs used her voice in his Fall 2014 runway show and Lange will next star in an upcoming campaign for his recently launched beauty line. This is MJ's first-ever beauty collection and it will be launched on August 9. However, Sephora is currently featuring five of the products for you to get a heads start.
Other companies are also partaking in the mature models trend. The beautiful French actress Catherine Deneuve, 70, is in one of Louis Vuitton's latest campaigns and the Olson twins handpicked skincare guru Linda Rodin, former model and fashion editor for Harper's Bazaar, to be part of The Row's pre-fall 2014 look book. What a wonderful trend, one that will hopefully continue and that will bring beautiful diversity to the fashion and beauty world.
Photo by Frazer Harrison/Getty Images