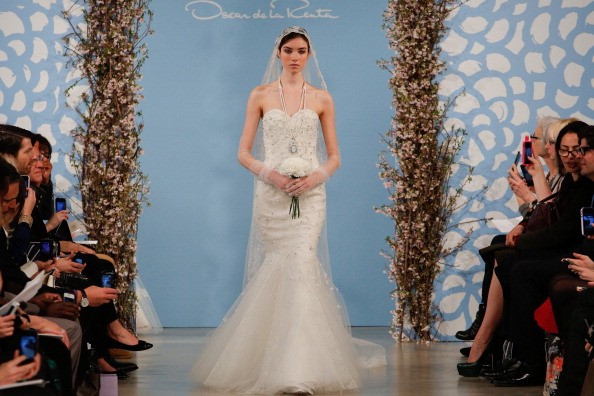 It might be the single most expensive item of clothing you ever purchase, and it's certainly the one item that will hold the most significance for you for the rest of your life. Your wedding dress is a special dress. It's not like any other dress. It's worn once; it's worn in front of everyone you love and adore, and it's worn the moment you become husband and wife. It's the dress that you will remember for the rest of your life. Other apparel comes and goes, but this one will stay with you forever.
This is an expensive item, and it's (hopefully) the only one of its kind you will ever wear. This puts a lot of pressure on brides to find the perfect gown that's everything she wants, but still affordable. The mermaid style is one of the most popular at the moment, but we have to warn you that it's not for everyone. Before you go dress shopping to find that perfect mermaid style wedding dress, remember that you cannot focus on one silhouette or you risk closing yourself off from the perfect gown. Be open to all dresses and find the one that looks best on you without feeling you have to stick the look you thought you'd love on paper.
It's Fitted
This is a dress that is very fitted to your body. It's one that will hit all your curves almost all the way down before it flares out like a mermaid's tail. This means you have to be very confident in your body and your looks, or you're not going to feel beautiful in this dress. If you feel that you have body issues and you can't stop focusing on those, this might not be the silhouette for you.
It's Best on Tall Frames
This is not to say – at all – that women who aren't as tall cannot wear this dress. However, it is made for a taller woman based on the cut and the shape. If you're a shorter woman looking to wear this style, you're going to want some really tall shoes, and you're going to need some serious alterations. It's not just the length of the gown that will need work. To make this dress fit a petite bride and still look like it was designed to look, your seamstress might need to take the dress in everywhere, removing length from the top, middle and bottom to keep it correctly proportioned.
Consider a Different Style
If you're set on the mermaid style wedding dress but you don't feel so good in it, keep in mind you can go for one of two other looks. The Trumpet style gown is going to fit the same way up top, but it's going to being to flair around mid-thigh, which is often a more flattering look on some body types. The Fit and Flare style also fits like a mermaid gown up top, but it flares just below the waist, which is very flattering on women with larger hips who find their troubled areas are further down.
Photo by JP Yim/Getty Images