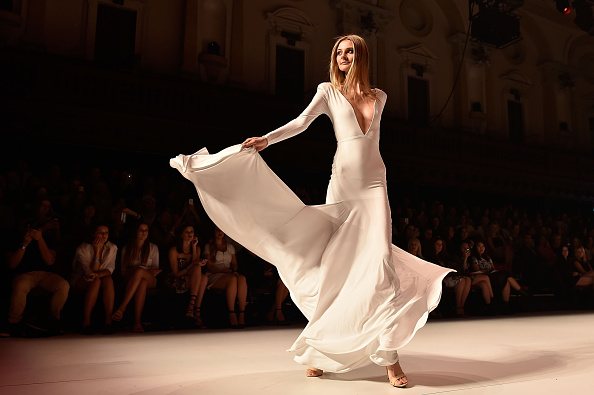 Spending money on clothes; my favorite subject. I feel as if I have the debate with women all the time: When is it a good idea to splurge on expensive clothing and when is it a good idea to buy inexpensive clothing? As a woman who is head over heels in love with fashion and designers and classic, timeless style, I can say that my own personal opinion falls in line with the opinions of my beloved grandmother and fashion designers such as Diane von Furstenberg and Coco Chanel, as well as fashion icons such as Jackie O. It's always better to be timeless and classic than trendy. I prefer clothing that lasts decades. I prefer my clothes well-made, tailored and timeless. I prefer to go into my closet and pick out a DvF wrap dress that I've had for a decade than walking into H&M and picking up four new dresses I'll wear for a season. I believe a lady should dress like a lady. I believe that less is more and that there are some things that are investment pieces and some things that are simply not worth the money.
Don't get me wrong, though; I like a few trends as much as the next girl (sweater socks over leggings peeking out over my riding boots, for instance). As I get older, I learn more and more every day. I remember hearing my grandmother tell me that her Louis Vuitton handbag was one she'd carried for decades when I was a little girl. My grandfather gave it to her, and decades later, I bought my first one; just like hers. I have had that particular bag more than 10 years now, and I still carry it a few times a week. And the good news is that it still looks perfect – oxidized and elegant on the handles – but perfect. That makes that bag cost me less than $100 per year to carry thus far; which is far less than what the average woman spends on cheap bags in a year.
I'm not quite 32 yet, so I have a lot of learning to do in the coming years, but I feel that my fashion and my style knowledge thus far has come a long way, and my beliefs on when to spend and when to save are very cemented. And with that, I'll let you in on a few spend vs. splurge secrets.
Handbags – Spend
If there is one thing that really pulls together an ensemble and leaves people with a lasting first impression, it's your handbag. The best handbag is one that never goes out of style. Think Chanel, Louis Vuitton, Prada. Think timeless, classic colors such as cognac and black. Think structured and large enough to carry what you need but not so large that it's trendy. These are bags that cost a lot up front, but you will not need a new bag every few months. You might want one, but you will not need one. Unlike cheap bags that fall apart and look cheap when you carry them, designer bags are well-made and timeless enough to carry for the rest of your life.
Shoes – Spend
I feel that shoes are an extension of your outfit, and that they should look good. I'm not saying you need to go out and drop a grand on a pair of Christian Louboutins (Unless you can and want to, and then you should). I'm merely stating that picking up dress shoes at a store for $20 is probably not a good idea. You need shoes that are made with quality materials and craftsmanship, and you're not finding them in Payless, if you know what I mean. There are plenty of high-end designer shoes that are timeless and elegant, and there are plenty of mid-range designer shoes that won't break the bank but will provide you will classic, well-made shoes that will last a long time.
Trendy Pieces – Save
If it's trendy, don't spend a lot on it. For example, maxi dresses, though I love them endlessly, are so trendy. The shapes, the styles and the design changes so much and there is really not a shape that is classic or even all that long-term if you think about it. In fact, I find fewer and fewer maxis I like every single year. I have not purchased even one yet this year; that's how infrequently I see them anymore. When you see a piece that's trendy, chances are good you're only wearing it a few months at best, so don't spend too much on these pieces that you'll never wear again.
Accessories – Save
Some disagree with me here. I feel that women should all have a few pieces of real jewelry; diamond or pearl studs and a quality watch. Other than that, however, I think all other jewelry is very personal and should be purchased at will. I am partial to Tiffany & Co. and I wear a silver necklace with a very small circular charm that says, "Mom" on it that my husband gave me when our first daughter was born. I wear that every single day. I also wear a T&C charm bracelet that he bought me a long time ago and has been filling periodically with charms that remind him of special things we've done or places we've gone. I wear it not because it's stylish, but because it's important to me. I find that I wear very little jewelry other than those two things, my wedding rings and my watch and my diamond studs. That's why I believe that accessories should be mostly save. When I do get dressed up at night, I prefer costume jewelry since it's not all that often, and those things come and go quite fast.
Classic Pieces – Spend
Blazers, trousers, winter coats; spend. These are classic pieces that should always fit well and be made well. It's too easy to see when a piece is made cheaply, and it always looks cheap. So pick the basics and splurge.
Jeans – Spend
My jeans are important to me, which is why I like to pick a classic dark wash in my favorite shape (skinny) and wear them for years. I love the way that they feel after so many washes, and there is nothing like a well-worn, fitted pair of jeans. That's why I prefer jeans that are well-made and can withstand that kind of wash and wear. Trust me on this one; we all know it's impossible to find the perfect jeans.
Dresses – Both
Trendy dresses and sundresses are great for budget-friendly shopping trips. However, your LBD and your wrap dresses and those that you wear to work and to occasional events should be a little bit nicer. Trust me, they'll last forever. I have dozens of DvF wrap dresses in my closet I've had for 10 years or more, and I love them just as much now as I did then. One in particular, a beautiful long-sleeve navy blue wrap is my favorite. I wear it at least once a month to something like church or dinner, and I always receive compliments on it. People have no idea I've worn it 100 times over the course of a decade. And the cut is so flattering.
Photo by Stefan Gosatti/Getty Images