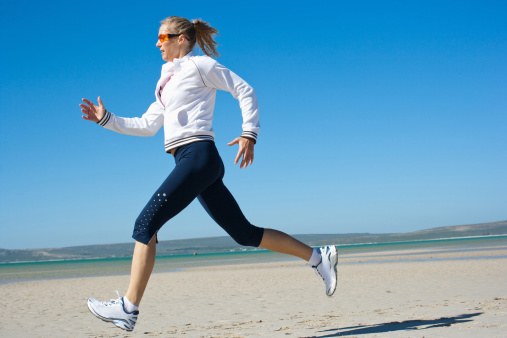 It's not enough anymore to make great clothes, not when there are clothes that do much more than just dress you. More and more designers are manufacturing stylish clothes and accessories that are made for tracking performance and health, or that help make your life easier to manage in one way or another.
And we're talking about some major designers and labels jumping on board with this high-tech, fitness-forward trend. At the start of the U.S. Open this past Monday, Ralph Lauren unveiled a high-performance smart compression shirt, titled "the Polo Tech." How did they design this smart shirt? The company actually interviewed players and ball boys during practice sessions and used the feedback to improve the design. Ralph Lauren plans to begin selling the shirt this spring, as reported by David Lauren, son of Ralph and an executive vice president of the company.
Polo Tech has sensors that are knitted in to the shirt and that read heartbeat, respiration and other biometrics. The company hopes that these features will resonate with the already-fit as well as people trying to get fit. The data that is collected by the shirt are stored by a "black box," which can also capture movement and direction. The black box transmits data, including stress levels and energy output, into the cloud for display on a tablet or smartphones. The wearer can learn all about his or her patterns and use that information to increase productivity or caloric burning.
"What Ralph Lauren is hoping to do is take the technology and to look at opportunities that we believe, and that our customers believe, would help them to live happier and healthier lives," said David Lauren.
Fitbit is a technology company that develops tracking gadgets for exercise and activity, including wireless-enabled wearable devices that measure data such as the number of steps walked, quality of sleep, and other personal metrics. The first of these was the Fitbit Tracker. Luxury brand Tory Burch, predominantly a women's clothing, shoe, and accessory brand, has partnered with Fitbit. They designed accessories exclusively for use with the fitness brand's Flex, including a brass pendant and bracelet, and patterned silicone wristbands. The Flex is a device that is worn on the wrist and tracks movement 24 hours a day, including sleep patterns. Imagine having a designer one? So cool!
Gilt Groupe is the beloved online shopping site known for flash sells featuring luxury brands. Gilt has teamed with Hewlett Packard Co. and designer Michael Bastian to develop a high-design smart watch. The watch is is Android and iOS compatible, allowing a user to take in notifications for email, text and calls, and to manage music and apps. It reportedly could hit the market this fall and will no doubt be a huge success.
And why did Ralph Lauren choose the U.S. Open to launch the Polo Tech? Why, because the company is the official outfitter of the games, of course.
(Photo by Getty Images)